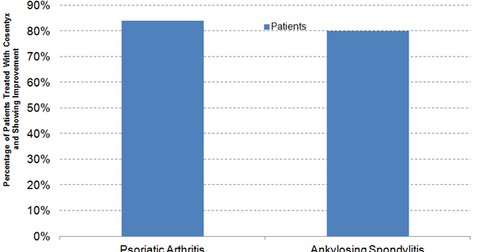 Novartis: Clinical Trials Show Cosentyx's Superior Efficacy
By Margaret Patrick

Updated
Clinical trials
Novartis's Cosentyx gained approval on November 23, 2015, from the European Commission (or EC). On October 23, 2015, Novartis had received a positive opinion from the Committee for Medicinal Products for Human Use (or CHMP) in Europe. CHMP had recommended the approval of Cosentyx in Europe for patients suffering with active ankylosing spondilitis (or AS) who didn't respond significantly to existing therapies such as non-steroidal anti-inflammatory drugs (or NSAIDs). CHMP also recommended Cosentyx for the treatment of adult patients suffering with psoriatic arthritis (or PsA) who hadn't responded to prior disease modifying anti-rheumatic drug (or DMARD) therapy, as a single drug or in combination with methotrexate.
Article continues below advertisement
Trial results
The above diagram shows the results from pivotal phase III studies in the Cosentyx clinical trial program, which was submitted for EC approval. These studies are randomized and placebo-controlled. They analyze Cosentyx's safety and efficacy profile. These studies showed that, based on x-ray analysis, about 80% of the total patients on Cosentyx therapy didn't witness progression in structural damage of the spine over a period of two years. Cosentyx therapy also resulted in a substantial reduction in signs and symptoms in PsA patients, where 84% patients didn't witness an increase in joint damage in two years.
Clinical results significance
With Cosentyx displaying rapid and sustained efficacy in treating AS and PsA, the drug should prove to be tough competition for existing AS drugs such as Amgen's (AMGN) Enbrel and Johnson & Johnson's (JNJ) Remicade (through its subsidiary Janssen Biotech) as well as for existing PsA drugs such as Celgene's (CELG) Otezla and AbbVie's Humira. As patients fail to respond to existing drugs, there's a significant unmet demand for new drugs in the AS and PsA space.
Investors can invest in the future prospects of Cosentyx through Novartis (NVS) and reduce excessive exposure to company-specific risks by investing in the Pharmaceutical ETF (PPH). Novartis accounts for about 7.1% of PPH's total holdings.
Correction: This post originally claimed that ~80% of Cosentyx patients didn't see progression in "spinal cord damage" over two years. We have since clarified that the lack of progression pertained to "structural damage of the spine."