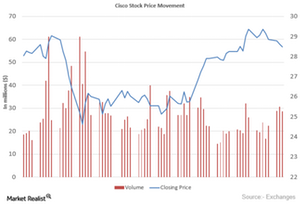 Cisco Moves to Extend Security by Acquiring Lancope
By Parker Thomas

Updated
Cisco to address enterprise by strengthening security
With the changing trend in technology, enterprises are becoming more digitized. With more devices comes an increasing concern for cyberthreats. Cyber criminals are adapting more to the changing trend, trying to exploit securities and avoid detections.
To address this challenge, Cisco (CSCO) has announced it will acquire the private firm Lancope for $452.5 million. Lancope will deliver solutions across the network from the enterprise infrastructure to the server data center.
Article continues below advertisement
Lancope and Cisco have been together as commercial partners for many years. On acquiring Lancope, Cisco will be in a position to leverage Lancope's StealthWatch system. That allows their business clients to track network behavior, threat visibility, and security intelligence to protect their systems from rising potential threats.
Security Everywhere strategy
After the acquisition, Cisco will be providing the comprehensive solution to protect its clients' resources and valuable assets by extending security over the network. That will enable its clients to identify quickly the advanced threats across the network and prevent them from growing further.
Lancopes's know-how in analytics and big data will provide Cisco with information that detects threats at the initial stage. It will also reduce the time that it takes enterprises to detect and react before the information gets stolen.
Both Cisco and Lancope will deploy Security Everywhere strategy before, during, and after an attack. When the strategy was announced, Cisco officials said the Security Everywhere strategy is driven by the growing Internet of Things and the organizational shift toward digital economy.
The Power Shares QQQ ETF (QQQ) is a portfolio of 107 stocks. QQQ's top four stocks are Apple (AAPL), Microsoft (MSFT), Amazon (AMZN), and Google (GOOG), which make up 13.0%, 7.4%, 5.1, and 4.5%, respectively, of the ETF.