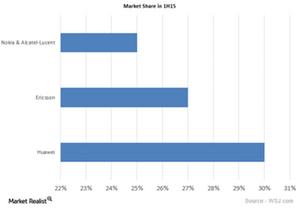 Cisco and Ericsson Synergy Collaborate: Predict $1 Billion Each
By Parker Thomas

Nov. 16 2015, Updated 8:07 a.m. ET
Why did Cisco and Ericsson Synergy collaborate?
On November 9, 2015, Cisco, the maker of Internet gear such as routers and switches, collaborated with European-based Ericsson Synergy, the maker of wireless networks. Both these companies will jointly develop and deliver solutions to the telecommunication segment and other consumers. The companies predict that the established synergy between the two will allow them to generate additional revenue of $1 billion each by the end of 2018.
Article continues below advertisement
The combined solution between the two companies will allow the carriers to manage the massive data generated from smartphones, tablets, video streaming, and cloud services. This collaboration will also allow them to compete with Nokia's purchase of Alcatel-Lucent for $17.6 billion and to gain scale in R&D (research and development) and fixed-lined Internet networks.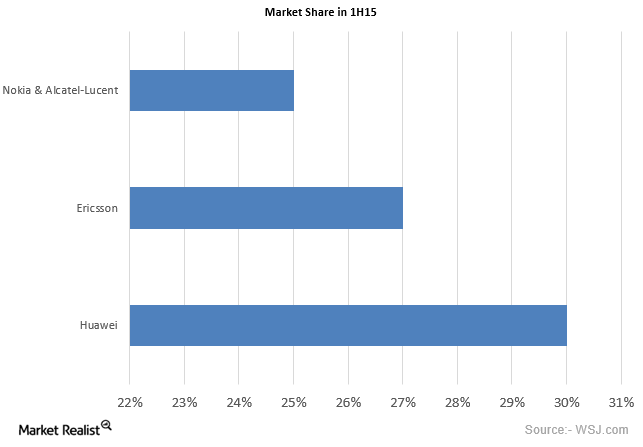 Ericsson market share fell
Ericsson is facing tough competition from Huawei in the mobile equipment market. Huawei constituted 30% of revenue in the market for the first half of 2015, followed by Ericsson at 27% and Nokia and Alcatel-Lucent at 25%. Ericsson's core business for supplying equipment has had an impact on price competition and sluggish demand for wireless broadband networks.
Ericsson will receive the patent license fees from Cisco. After the announcement of the deal, Ericsson rose 1.6% to close at 86.9 kronor in Stockholm. That, in turn, raised its market value to 286 billion kronor ($33 billion).
Cisco closed at $28.18, a fall of 1%. The collaboration between the two companies counteracted Cisco's rival Juniper Networks, whose stock fell 7.8% after the announcement.
Chuck Robbins, Cisco's CEO (chief executive officer), said in an interview with Bloomberg Television, "We have always said there will be brutal consolidation and we are seeing that as we speak. We don't believe these larger mergers work that effectively. We think the strength of our partnership will allow us to be in market with our customers, helping them move more effectively and quickly."
The iShares US Technology ETF (IYW) is a portfolio of 150 stocks. The top four stocks, Apple (AAPL), Microsoft (MSFT), Facebook (FB), and Alphabet (GOOG), constitute 18.0%, 11.6%, 6.7%, and 6.0%, respectively, of IYW.