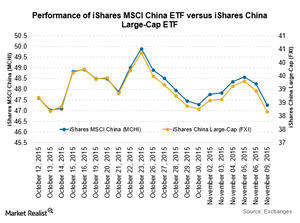 Chinese Yuan Feels Pressure as Trade Numbers Disappoint
By David Meyer

Nov. 10 2015, Updated 10:01 a.m. ET
Chinese yuan trades lower due to the trade report
The Chinese yuan was trading on a weaker note compared to the US dollar on November 9. Disappointing trade data were released on November 8. The data point towards continued weakness in the Chinese economy. The trade balance rose in October to 61.64 billion dollars due to a fall in imports.
Exports fell at an annual pace in October by 6.9% compared to a fall of 3.7% in the previous month. It was below the market consensus of 3.0%. Imports fell by 18.8% in October. They performed below market forecasts but above September's fall of 20.4%. Significant pressure also developed for the US dollar-Chinese yuan currency pair due to positive employment data from the US. The data cemented speculations of a rate hike by the Fed in December.
Article continues below advertisement
Chinese yuan is directly convertible with the Swiss franc
In its quest to push its SDR (Special Drawing Rights) status with the IMF (International Monetary Fund), the PBOC (People's Bank of China) announced that it will begin direct trading between the Chinese yuan and the Swiss franc. The franc became the seventh major currency to be able to now bypass a conversion into the US dollar before being converted to the yuan. Earlier, the yuan was trading directly against the US dollar, the pound sterling, the Japanese yen, the Australian dollar, the New Zealand dollar, and the Russian ruble. The move is also expected to improve the bilateral relations between China and Switzerland and reduce the conversion costs.
Impact on the market
The ETFs were trading on a negative trajectory on November 9, 2015. The iShares China Large-Cap ETF (FXI) fell 2.0% while the iShares MSCI China ETF (MCHI) fell 2.1%.
Chinese ADRs (American depositary receipts) also ended on a negative note. China Southern Airlines (ZNH) was trading lower by 2.5%. Sinopec Shanghai Petrochemical (SHI) ended lower by 1.6% while Yanzhou Coal Mining (YZC) fell by 0.60%.