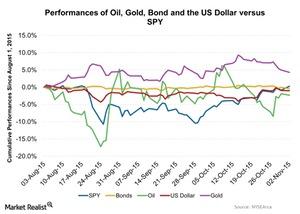 China's November 2015 PMI Pressured Oil Prices, US Market Bullish
Market snapshot
Investors in the US stock market were bullish on Monday, November 2, in the wake of manufacturing reports released for October 2015. US investors seemed to take the weak Chinese manufacturing data released by Caixin in stride. According to this report, China's Purchase Managers' Index (or PMI) rose from September's reading of 47.2 to 48.3 for October 2015.
However, this reading is still below 50, implying a contraction in the country's economic activity. China's factory activity was released on November 1, 2015, coming in at 49.8. The following graph depicts the cumulative performances of the market aspects since August 2015.
Article continues below advertisement
Gold, oil, and the dollar
In the above chart, the US dollar is represented by the PowerShares DB US Dollar Bullish ETF (UUP), oil is represented by the United States Oil ETF (USO), and gold is represented by the SPDR Gold Trust ETF (GLD). The total bond market is represented by the Vanguard Total Bond Market ETF (BND).
Volatility, represented by the Volatility S&P 500 Index, fell by 6.1% on November 2. Oil prices, the US dollar, and gold slid during the day while the yields on the bond rose.
China's manufacturing data pointed toward sluggish growth in the economic activity of the world's second largest economy and one of the largest consumer of fuels. On November 2, the release of this data and the oil supply glut from Russia and the OPEC (Organization of Petroleum Exporting Countries) region caused a drop in oil prices.
Healthcare
The energy sector was followed by the healthcare sector, which jumped 2.1% on the day. Healthcare stocks posted better corporate earnings in October 2015, but they also experienced political interruptions over price gouging of specialty drugs. Valeant Pharmaceuticals International (VRX) saw a plunge in its price movement in the wake of accounting and sales controversies. VRX rose 7.2% on November 2 after the company defended those allegations.
Other prominent healthcare stocks that returned significant positive returns on Monday, November 2, were AbbVie (ABBV), Cardinal Health (CAH), and Tenet Healthcare (THC). These stocks gained 6.4%, 4.8%, and 4.4%, respectively, on the day.
In the next part, let's analyze the movement of key stocks of the SPDR S&P 500 ETF (SPY) on Monday, November 2.