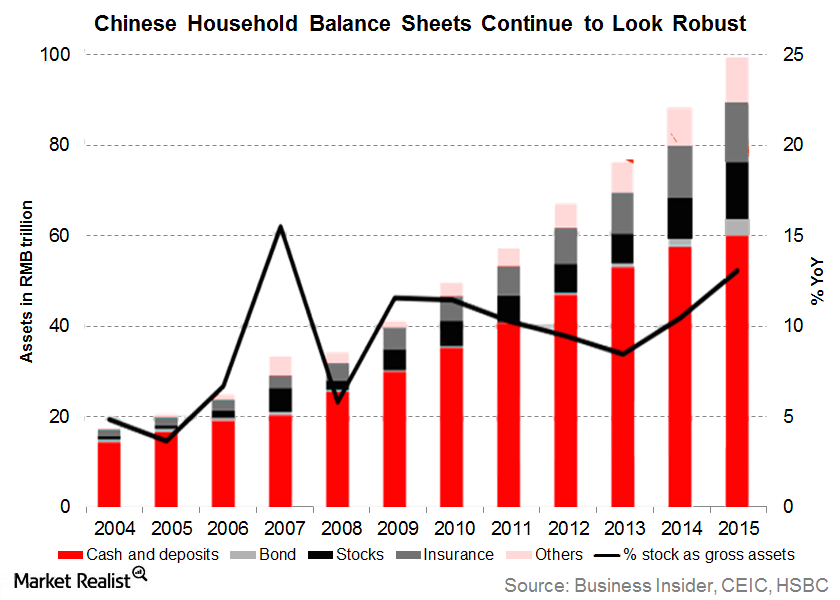 China Still Offers Some Opportunities
By Devan Kaloo

Nov. 20 2020, Updated 5:25 p.m. ET
What's also happening in China (GCH) is a rise in social protest around payments. Because corporations are struggling to make money, companies haven't been able to pay wages on time. And this has been a burden on those companies' employees.
All this and our aforementioned view on China does not mean opportunities in the country have either disappeared or don't exist, or that China's current issues will necessarily cause a domino effect in emerging markets.
China, in our view, has more levers than most countries to get its economy going. We also find it difficult to believe that the country will "collapse" because its government is acutely sensitive to issues and is willing to spend money to fix things.
Article continues below advertisement
Still, these positive notes have not stopped some investors from losing faith in emerging economies and wondering if these countries will ever reach their potential. Global markets are being driven by the actions of central banks right now, specifically on the moves of cutting interest rates to ultra-low levels and using exceptional policy tools like quantitative easing (or QE).
Market Realist – Despite all its challenges, China still offers some bright spots of opportunity for investors. The equity market slump in China (YINN) is not likely to affect the Chinese consumer, as most Chinese household wealth is held in cash and deposits instead of stock markets. You can see this trend in the above graph.
Even though growth in China (GCH)(FXI) seems to be slowing down, the economy is merely shifting to a new and sustainable normal. The focus is now on the service and consumption sectors instead of investment in real estate and infrastructure. China (ASHR) is estimated to continue to grow at more than 6.5%, which beats most global markets (FAM) (FCO), hands down.
China's contribution to the global economy is immense. According to estimates from the IMF, China, despite its recent slowdown, will add $1 trillion to global growth this year (Source: Barron's). China will likely remain the world's growth engine. Steven Barnett, division chief in the Asia and Pacific department of the International Monetary Fund, endorses this view:
"In 2003-7, China averaged 11.7 percent growth whereas in the coming five years (2015-19) we expect growth to average 'only' 6.8 percent. Yet, because China's economy is much bigger, the average contribution to global growth will actually increase slightly—rising from 1.0 (2003-7) to 1.1 (2015-19) percentage points."
Read on to the next part of this series to see how EM equities could provide value for long-term investors.