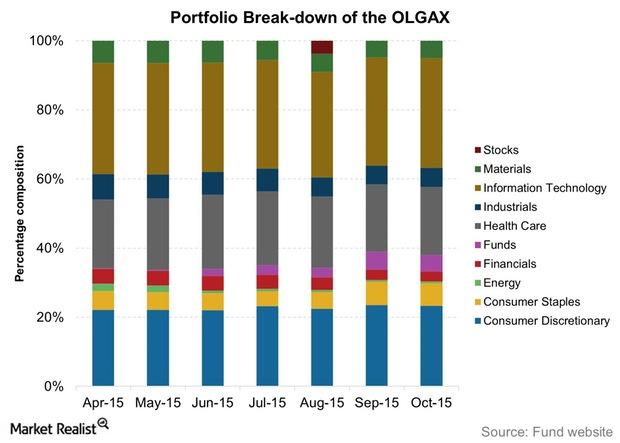 Checking in with the JPMorgan Large Cap Growth Fund in November
By David Ashworth

Dec. 4 2020, Updated 10:53 a.m. ET
JPMorgan Large Cap Growth Fund
The JPMorgan Large Cap Growth Fund Class A (OLGAX) invests primarily in "equity securities of large capitalization companies with market capitalizations similar to those within the universe of the Russell 1000 Growth Index. It seeks to invest in stocks that have potential to exceed market expectations for a prolonged period of time."
The investment process consists of research, stock selection, and risk management, which leads to a diversified portfolio. The fund manager actively seeks to identify companies with positive price momentum and attractive fundamentals.
Article continues below advertisement
The fund's assets were invested across just 66 holdings (stocks, bonds, and cash) as of October 2015 (the latest available), and it was managing assets worth $15.80 billion as of the end of October. Its October portfolio's top ten equity holdings included Facebook (FB), Alphabet (GOOG), Regeneron Pharmaceuticals (REGN), The Home Depot (HD), and Celgene Corporation (CELG), which made up a combined 23.1% of the fund's portfolio.
Historical portfolios
For this analysis, we'll be considering OLGAX's holdings as of September 2015, as that is the latest available sectoral breakdown with us. The fund's holdings after September reflect valuation-driven changes to the portfolio, not the actual holding.
The fund's biggest sectoral exposure is to information technology stocks, which make up 31.7% of the funds assets. The consumer discretionary sector is the second-largest sectoral component, comprising 23.1% of the fund. Healthcare is a close third, making up one-fifth of the fund's portfolio.
Except a bit of touching-up, the fund manager has not made too many changes to the portfolio, thus resulting in low turnover. The industrials, consumer discretionary, and energy sectors have seen a few changes, but other sectors have largely remained unchanged.
Other changes in the portfolio
The fund manager has increased exposure to the consumer discretionary and consumer staples sectors over the one-year period ending in October 2015. Twenty-First Century Fox (FOXA) was one stock that was bought and sold off within this period. Meanwhile, Reynolds American (RAI) and Walgreens Boots Alliance (WBA) were recently added to the portfolio. Information technology stocks also found increased portfolio space.
On the other hand, financials, energy, and industrials saw their shares reduced over the period. But how have these portfolio moves helped the fund's performance? Continue to the next part of this series to find out.