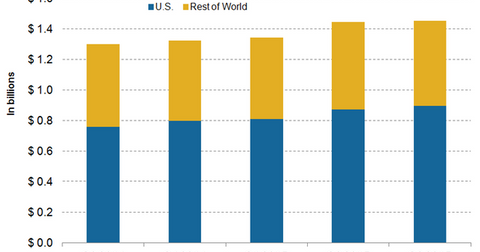 Celgene's Revlimid Continues to Dominate Multiple Myeloma Market
By Margaret Patrick

Updated
Revlimid's performance
In 3Q15, Celgene's (CELG) Revlimid managed to earn revenues of about $1.4 billion, an 11.8% rise from the $1.3 billion it had earned in 3Q14. Excluding the negative impact of foreign exchange fluctuations, in 3Q15, Revlimid's revenues rose by about 14% on a year-over-year (or YoY) basis.
Based on the drug's strong performance, Celgene has updated its full-year 2015 guidance for Revlimid's revenues to $5.8 billion from the previously projected range of $5.6–$5.7 billion.
Article continues below advertisement
Revlimid's sales in the US market rose by 17.7% from $0.76 billion in 3Q14 to $0.89 billion in 3Q15, while the drug's sales in rest of world markets rose by 3.4% from $0.54 billion to $0.56 billion in the same time period. Celgene expects that the rest of world sales will be positively affected by Russian tender sales in the second and fourth quarters in future years.
Revlimid growth driver
Based on data presented at the 56th American Society of Hematology's (or ASH) Annual Meeting and Exposition, Revlimid continues to be the backbone therapy for multiple myeloma (or MM).
Until recently, Revlimid was only used as a second-line treatment for MM. But on February 18, 2015, the U.S. Food and Drug Administration (or FDA) approved the drug in combination with dexamethasone as a first-line treatment for newly diagnosed multiple myeloma (or NDMM) patients.
Article continues below advertisement
In addition to US markets, Revlimid has been approved as a first-line MM therapy in Germany, Austria, and a few Scandinavian countries in Europe. With the success of the launch of Revlimid for NDMM patients in the United States and European countries, Revlimid has managed to increase both its market share as well as its duration of therapy.
The drug is a tough competition for other MM drugs such as Amgen's (AMGN) Kyprolis (through Amgen's subsidiary Onyx Pharmaceuticals), Novartis's (NVS) Farydak, and Velcade, co-developed by Millennium Pharmaceuticals and Johnson & Johnson (JNJ).
US market
In 3Q15, average daily prescriptions for Revlimid in the United States, calculated on a quarterly basis, were higher than those of any previous quarters. Revlimid has recorded an all-time high in terms of total number of unique patients treated.
As well, Revlimid has seen an increase in its average duration of treatment by one month as compared to 3Q14.
Europe and other markets
In 3Q15, Revlimid has continued to successfully penetrate the NDMM patient market in Germany, Austria, and other early launch countries. The drug has also managed to maintain its leadership as a second-line treatment and sustain its position as a third-line treatment.
In Germany, Revlimid currently accounts for 20% of patients on first-line MM therapy in a non-stem cell transplant setting. The company continues to project strong Revlimid sales in international markets. The drug will be launched in Spain and three other major European markets by 2Q16.
Celgene expects that Revlimid will be approved for NDMM in Japan and Austria by the end of 2015, further adding to the drug's revenues in 2016. To know more about Revlimid, please refer Celgene's Competitive Edge in Multiple Myeloma.
Instead of directly investing in Celgene and being exposed to excessive company-specific risks, you can invest in the company through the SPDR S&P 500 ETF (SPY). Celgene accounts for 0.5% of SPY's total holdings.