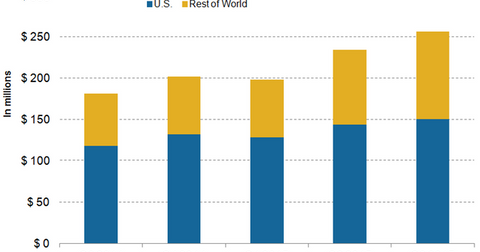 Celgene's Pomalyst Records Strong Revenue Growth in 3Q15
By Margaret Patrick

Updated
Pomalyst's performance
In 3Q15, Celgene's (CELG) Pomalyst managed to earn revenues of about $256.5 million, a 42% rise from $181.1 million in 3Q14. Excluding the positive impact of foreign exchange fluctuations, in 3Q15, Pomalyst's revenues rose by about 41% on a year-over-year (or YoY) basis. This high growth was driven by a rise in drug volumes sold in all major geographies due to a rising duration of therapy.
Pomalyst's sales in the US market rose by 26.9% from $118.3 million in 3Q14 to $150.2 million in 3Q15, while the drug's sales in the rest of the world's markets rose by 69.4% from $62.8 million to $106.4 million in the same time period.
Pomalyst is tough competition for other multiple myeloma (or MM) drugs such as Amgen's (AMGN) Kyprolis (through Amgen's subsidiary Onyx Pharmaceuticals), Novartis's (NVS) Farydak, and Velcade, co-developed by Millennium Pharmaceuticals and Johnson & Johnson (JNJ).
To know more about Pomalyst, please refer Celgene 101: Business Model.
Article continues below advertisement
New markets
Pomalyst has managed to increase its share in the third-line MM market in Europe and Japan. In Europe, Celgene received reimbursement approval for Italy in September 2015. In Japan, Pomalyst managed to garner 20.1% of the third-line market share in a few months.
The success of Pomalyst has also set the stage for Revlimid's approval in the newly diagnosed multiple myeloma (or NDMM) segment in Japan. Continued launches in new markets coupled with new data demonstrating an increase in the duration of treatment effects with Pomalyst-based combination therapy is expected to be a strong growth driver for the drug.
Instead of directly investing in Celgene and being exposed to excessive company-specific risks, you can invest in the company through the PowerShares QQQ, Series 1 ETF (QQQ). Celgene accounts for 1.8% of QQQ's total holdings.