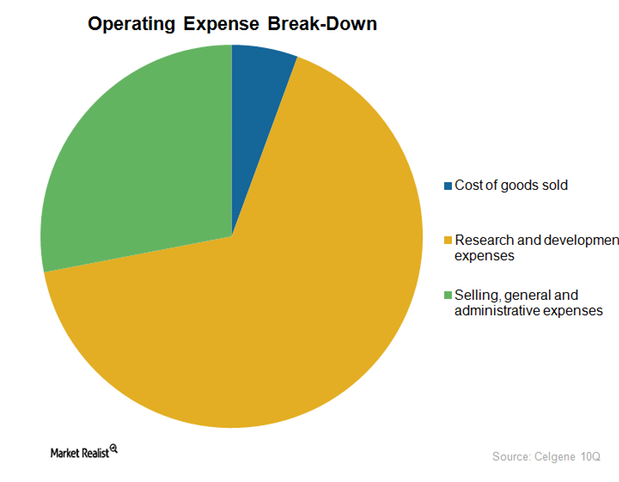 Celgene's Operating Expenses in 3Q15
By Margaret Patrick

Aug. 18 2020, Updated 5:23 a.m. ET
Operating expenses
In 3Q15, Celgene's (CELG) gross profit margin improved due to a favorable product mix composed mainly of Revlimid, Pomalyst, and Otezla. This also led to a year-over-year (or YoY) rise of 2.5% in the company's operating margin, which reached 54.5% in 3Q15.
Article continues below advertisement
Research and development expenses
In 3Q15, Celgene's research and development (or R&D) expenses were about 55.9% of the company's total revenues, much higher than the average biotechnology industry's R&D expense ratio. Biogen (BIIB), Gilead Sciences (GILD), and AbbVie (ABBV) reported R&D expense ratios of about 18.7%, 8.9%, and 23.8%, respectively.
Compared to 3Q14, Celgene's R&D expenses in 3Q15 were higher by $629.4 million. This rise is mainly attributable to $770.7 million spent by Celgene on collaboration agreements in 3Q15, a rise of $680.4 million as compared to 3Q14. Celgene spent $575.1 million and $149.8 million in upfront fees to Juno Therapeutics and Nurix, respectively.
Celgene also increased its investment for supporting its early- to mid-stage product pipeline, investing $263.7 million in human pharmaceutical programs, $170.9 million in other pharmaceutical programs, $94.4 million in drug discovery and development, and $4.8 million in cellular therapy research.
With its growing pipeline, Celgene expects to witness a rise in in-house R&D expenses in 4Q15 and in 2016 due to a rise in clinical trial activity for GED-0301, durvalumab, and ozanimod.
The company also expects more collaboration expenses such as those for initiating Phase 3 trials for luspatercept, AG-221, and other programs.
Selling, general, and administrative expenses
In 3Q15, Celgene's selling, general, and administrative (or SG&A) expenses rose year-over-year by about 10.6% to reach $550.3 million. The growth in the company's SG&A expenses is mainly attributed to its increased support for inflammation and immunology (or I&I) products such as Otezla and GED-0301.
SG&A expenses also rose due to higher marketing expenses related to approved indications for Otezla, Pomalyst, and Abraxane.
Cost of goods sold
In 3Q15, Celgene's ratio of cost of goods sold to net products sold reached 4.8%, a marginal fall from the company's 5% ratio in 3Q14. This was the result of a favorable product mix. Otezla and Pomalyst, having lower costs, made up a higher portion of total products sold, while Abraxane and azacitidine injections, having higher costs, formed a smaller portion of total products sold.
Instead of directly investing in Celgene and being exposed to excessive company-specific risks, you can invest in the company through the iShares Russell 1000 Growth ETF (IWF). Celgene accounts for 0.9% of IWF's total holdings.