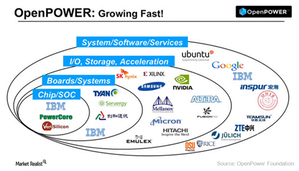 Can IBM Threaten Intel in the Server Market?
By Puja Tayal

Nov. 19 2015, Published 5:09 p.m. ET
Intel versus IBM
So far in this series, we've seen Intel's (INTC) efforts in the supercomputing space to boost growth. In the server space, IBM (IBM) is Intel's biggest competitor, and it's looking to capture some of Intel's 95% market share with its OpenPower architecture. Let's see how Intel is positioned in the server space and what challenges it will face from IBM.
IBM divested its x86 or Intel-based server business to Lenovo in 2014 to focus on a higher-margin server business. Intel-based servers are inexpensive and attractive to cloud companies that buy commodity servers. On the other hand, Intel diversified its server portfolio, offering single- and dual-socket servers, multiple-socket servers, and microservers.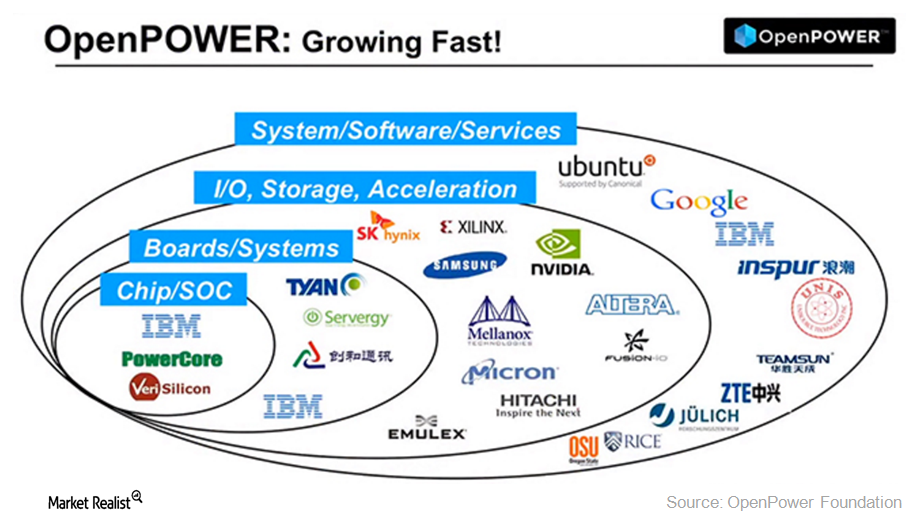 Article continues below advertisement
IBM's server strategy
Realizing the importance of commodity servers, IBM has changed its business model to focus on the cloud. The company started a technology initiative called "OpenPower Foundation" together with Google (GOOG), Nvidia (NVDA), Mellanox, and Tyan. The foundation aims to make HPC (high-performance computing) mainstream. HPC uses accelerators such as GPUs (graphics processing units) and FPGAs (field-programmable gate arrays) to increase performance while controlling power consumption.
Now, IBM is challenging Intel's x86 servers with its new Power8 servers designed for the cloud. The Power server will house Xilinx's (XLNX) FPGA to accelerate workloads such as big data analytics and machine learning.
Analyzing IBM's Power architecture
IBM's PA (Power Architecture) is based on ARM architecture, which delivers similar performance as x86 servers but at a reduced cost. The major drawback of PA is the competitive process node, which lags behind Intel's, making x86 more power-efficient than Power8. This problem should resolve when IBM upgrades Power8 from 22 nm (nanometers) to 14 nm FinFET.
PA's success will depend on a web-scale company like Google or Facebook deploying it on a large scale to run a major part of its infrastructure. One key advantage for IBM is the involvement of OpenPower partners in the development of PA systems. This will make these systems cost-competitive.
If IBM succeeds in this venture, it will pose a major competition to Intel's data center business. The PowerShares QQQ ETF (QQQ) has a 2.9% exposure in Intel.