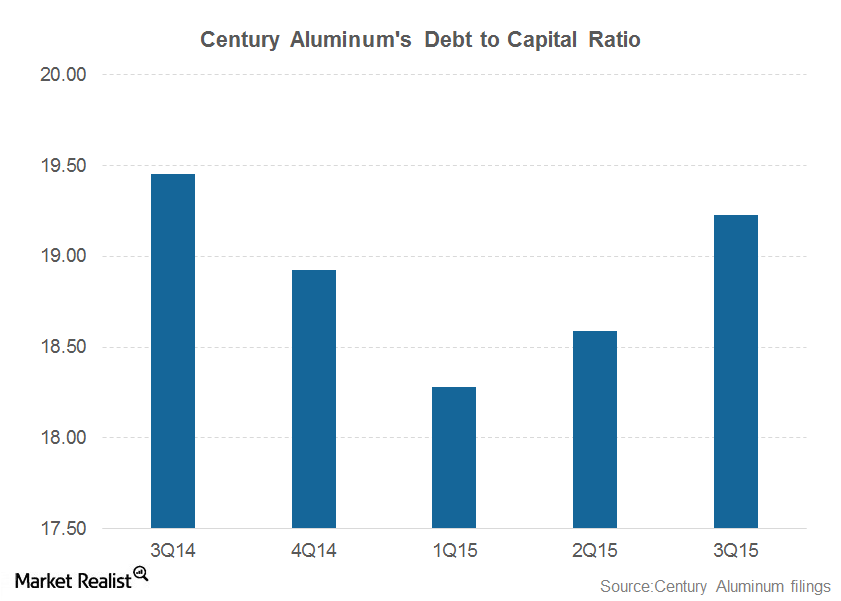 How Can Century Aluminum Manage the Current Downtrend?
Downtrend
Previously in this series, we've explored Century Aluminum's (CENX) 3Q15 financial results and the steps the company's management is taking to stem its losses. The big question for investors would be how Century Aluminum plans to manage the current low aluminum price environment. Currently, Century Aluminum forms 0.03% of the iShares Core S&P Small-Cap ETF (IJR).
Article continues below advertisement
Break-even point in cash flow
In the 3Q15 earnings conference call, Century Aluminum (CENX) said that the company expects to achieve the break-even point in cash flow in 2016 at $1,525 per metric ton aluminum prices, assuming physical aluminum premiums stay at the same levels. Century Aluminum arrived at this figure after accounting for "sustaining capital expenditures, cash taxes, interest expense, SG&A expenses and pension contributions." However, the assumption does not include any discretionary capital expenditure.
Also, Century Aluminum has excluded the Mt. Holly smelter from its calculations. The smelter risks being idled if CENX is not able to sign a new power contract by the end of 2015. It has been less than a year since Century Aluminum acquired Alcoa's (AA) stake in this plant.
On October 30, 2015, spot aluminum closed at $1,447 per metric ton on the LME (London Metals Exchange). This is $78 lower than what Century Aluminum assumed in its 2016 guidance. If aluminum prices don't rise from here, Century Aluminum could burn $78 in cash for every metric ton of aluminum. However, Century Aluminum has $123 million in cash that should help the company manage its operations over the next few quarters, even if aluminum prices don't rise from these levels.
Article continues below advertisement
Low leverage
The graph above shows Century Aluminum's debt-to-capital ratio. Fortunately for Century Aluminum, its leverage ratios are currently much lower than other companies in this space, including Constellium (CSTM). As of September 30, 2015, Century Aluminum has $247 million in long-term debt, which matures in 2021. So, the company does not face any near-term maturity risks. This is in contrast with CENX's parent company Glencore (GLNCY), which faces significant near-term debt maturities.
Century Aluminum's low leverage and good cash levels should help the company survive for the coming few quarters. However, the equation might change if we see a correction of $100 or more in aluminum prices. Although the possibility of aluminum prices dipping that low looks slim, investors should closely watch how aluminum prices play out in the next few quarters.
You can track the latest movement in aluminum prices by visiting Market Realist's Aluminum page.