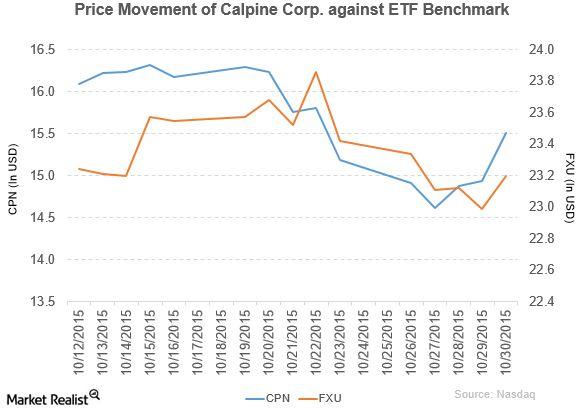 Calpine Improved Its Performance in 3Q15
By Gabriel Kane

Nov. 2 2015, Updated 3:53 p.m. ET
Calpine's price movement
Calpine (CPN) has a market value of $5.6 billion. Calpine's YTD (year-to-date) price movement has been falling quarter-over-quarter in 2015. After the 3Q15 earnings report, CPN rose by 3.8% to close at $15.51 per share on October 30, 2015, with an increase in net revenue of 35.1% in 3Q15. The price movement on a weekly, monthly, and YTD basis is 2.1%, 5.3%, and -29.9%, respectively.
The stock has broken support and is trading below all moving day averages in 2015. Currently, it's trading at 1.8% below the 20-day moving average, 0.18% below the 50-day moving average, and 18.7% below the 200-day moving average.
The First Trust Utilities AlphaDEX Fund (FXU) invests 4.0% of its holdings in Calpine. The ETF tracks a tiered equal-weighted index of US utilities selected from the Russell 1000. The YTD price movement of FXU is -4.5% as of October 29, 2015.
The market caps of Calpine's competitors (CPN) are as follows:
Article continues below advertisement
Performance of Calpine in 3Q15
The company has reported net revenue of $1,948 million in 3Q15, a rise of 35.1% when compared to the net revenue of $1,442 million in 2Q15. The company's total MWh generation rose by 20.9% in 3Q15. The net income and EPS (earnings per share) rose to $279 million and $0.76 per share in 3Q15 as compared to the net income and EPS of $21 million and $0.05 per share in 2Q15. The company's cash and cash equivalents have increased by 56.2% and investments in derivatives have fallen by 11.1% in 3Q15. The current ratio has increased to 1.48 and debt-to-equity has fallen by 4.57 in 3Q15 as compared to the current ratio and a debt-to-equity ratio of 1.35 and 4.91 in 2Q15.
In 3Q15, some of Calpine's key activities were:
the reopening of the geothermal power generation facilities at the Geysers in Lake and Sonoma Counties in California after they were affected by a wildfire
company support for the Environmental Protection Agency's (or EPA) clean power plan
agreement to acquire Champion Energy Marketing for $240 million, subject to working capital adjustments. This acquisition was completed on October 1, 2015.
The company has projected the EPS for fiscal 2015 and fiscal 2016 in the range of $2.25-$2.35 per share and $2.00-$2.40 per share, respectively. Calpine agreed to acquire the Granite Ridge Energy Center from Granite Ridge Holdings for $500 million, or ~$671 per kilowatt, subject to working capital adjustments.
About Calpine
Calpine generates electricity from natural gas and geothermal resources. It specializes in developing, constructing, owning, and operating natural-gas-fired and renewable geothermal power plants that use advanced technologies to generate power in a low-carbon and environmentally responsible manner.