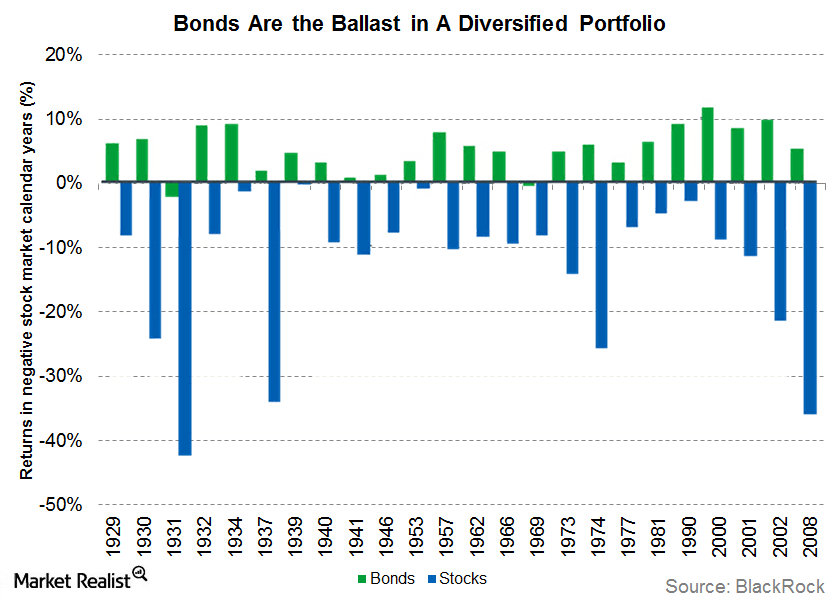 Building with Buffer: The Case for Bonds
By Dennis Stattman

Sep. 1 2020, Updated 11:53 a.m. ET
Mr. Stattman tells us this is a particularly important dynamic when markets are volatile, which is what we expect for the remainder of this year. It's then that the downturns can be deeper, more numerous… and decidedly more painful for investors. A portfolio built with some "buffer" may be better equipped to weather these points in time, and deliver superior results over the long haul.
Article continues below advertisement
Four Steps to "Building With Buffer"
Following are four relatively simple ideas for incorporating some potential guardrails into your investment strategy, such that you can stay in your lane (in other words, remain focused on your long-term goal) and potentially come out ahead over time.
1. Invest in multiple asset types to balance out equity risk. Data dating back to 1929 show that bonds historically have delivered positive results when stocks were negative. But don't stop at just stocks and bonds. Consider a wide set of opportunities with different risk characteristics.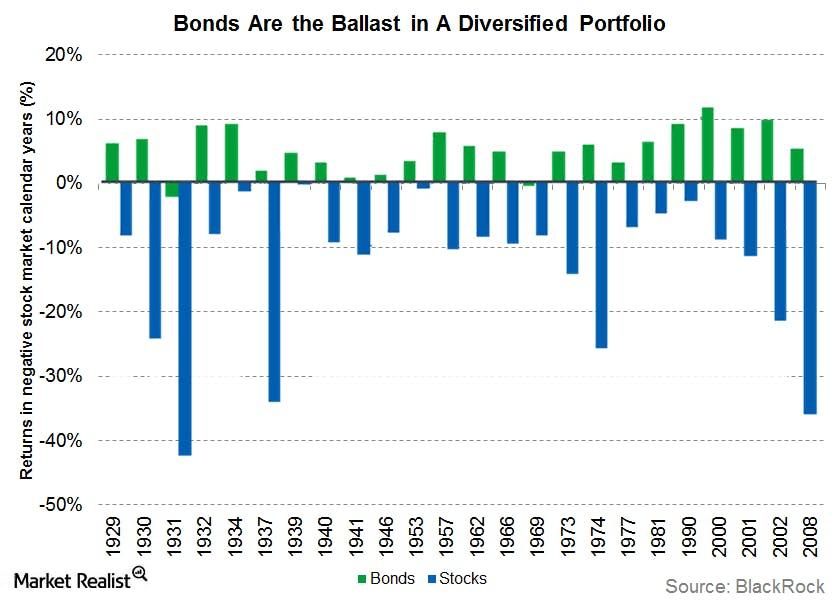 Article continues below advertisement
Market Realist – Bonds historically tend to outperform equities in bear markets. This is evident from the previous graph. Bonds were in the green for most of the calendar years in which the equity market posted negative returns. Bonds and stocks are negatively correlated. This is why bonds can act as a ballast in your portfolio. Thus, the case for bonds is still strong while building with buffer.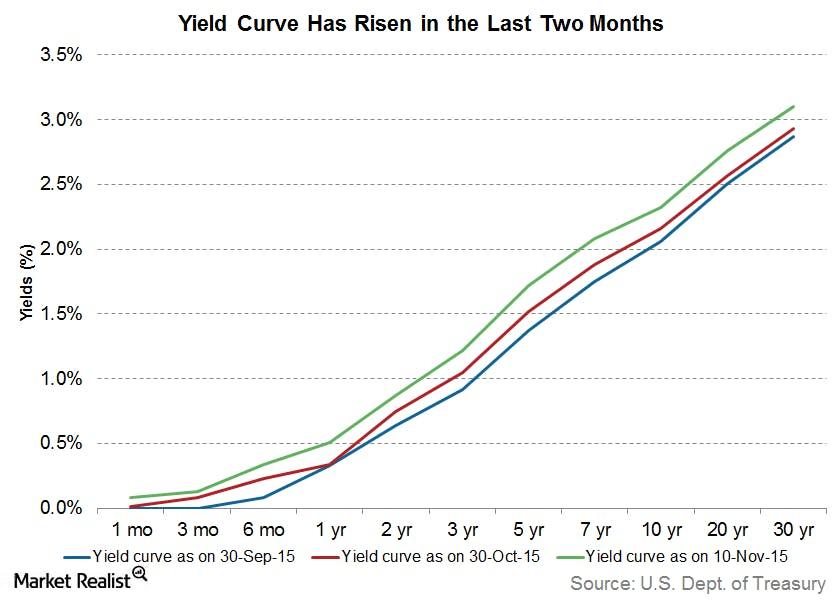 Article continues below advertisement
Bond yields have been falling for decades now and are much below their historical norm. The lack of fixed income has pushed yield-starved investors towards equities. Moreover, the Federal Reserve is poised to hike rates for the first time since the US financial crisis (XLF)(IYF) of 2008. A rising rate environment does not bode well for bond market returns. However, all this does not mean that you should turn away from bonds (BND) just yet.
Treasury yields (TLT)(TLH) have been climbing recently, implying that bond prices are falling. Note that a fall in bond yields is marked by a subsequent rise in bond prices and vice versa. The yield for ten-year Treasuries (IEF) was 2.1% at the end of September, 2.2% at the end of October, and currently stands at 2.3%. The rise in yields can be seen across the bond market spectrum. 30-year Treasury yields have risen from 2.9% as of September 30, 2015, to 3.1% as of November 10, 2015.
The recent fall in bond prices could mean opportunities for long-term investors looking to build a well-balanced portfolio. Bonds are a crucial hedge against risks emanating from equities (VOO). Despite the imminent Fed rate hike and the lack of substantial fixed income yields, bonds deserve a place in your portfolio due to their diversification benefits.
Not all fixed income classes are equal. High yield bonds (HYG)(JNK) for instance are becoming increasingly correlated with stocks. The correlation between high yield bonds and US equities was ~0.52 in the period between 1983 and 2007. This rose to ~0.73 between 2008 and 2014. Thus, caution should be exercised while seeking opportunities in the asset class.