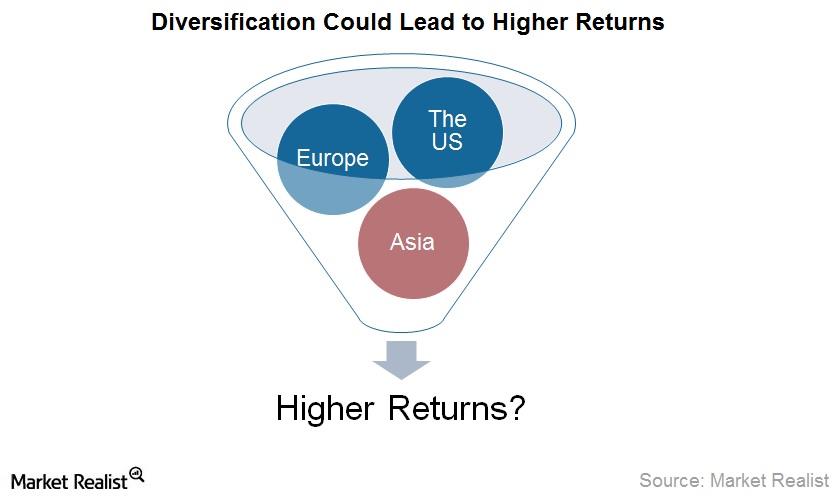 Brushing Up on International Diversification Using Mutual Funds
By David Ashworth

Nov. 17 2015, Updated 4:47 p.m. ET
Why diversify?
Diversification is illustrated in the adage, "Don't put all your eggs in one basket," which generally means not having overexposure to an asset class. You may be a novice, a savvy investor, or anything in between with access to the world's largest financial market: the US. The nation's markets provide a plethora of investment options with vehicles to go along with it. So, why would you invest anywhere else?
Diversification across asset classes is not the only type of diversification. Another type, geographical diversification, is important as well.
Article continues below advertisement
Why geographical diversification?
Despite the variety of products available in a financial market, geographical or, in our case, international diversification, is important because the macroeconomic developments impacting them are the same and are pertinent to a certain geography.
Geographical diversification allows your portfolio to keep earning returns in the event your primary geography has not been doing well. When diversifying internationally, you can look at regional diversification or country-specific diversification.
Diversification using mutual funds
Mutual funds provide interesting opportunities to invest, given their investment styles and preferences. This is taken up a notch when mutual funds go international. Not only does their footprint expand, active management makes the process that much more interesting.
In this series, we'll focus on mutual funds that provide you with international diversification (FAIDX) (OIGAX) with little or no exposure to US equities. These funds are large-cap oriented and provide exposure to companies like Medtronic plc (MDT), Baidu, Inc. (BIDU), and Grupo Televisa, S.A.B. (TV).
Let's begin with the American Funds EuroPacific Growth Fund (AEPGX).