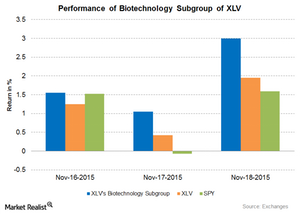 How Did the Biotechnology Subgroup of XLV Perform?
By Peter Neil

Updated
Biotechnology subgroup of XLV
The Health Care Select Sector SPDR ETF (XLV) provides exposure to different biotechnology sub-industries. Among all the subgroups that XLV has in its portfolio, the biotechnology subgroup outperformed the rest. The biotechnology subgroup gave a return of around 2.0% as compared to XLV's return of 2.0% and SPY's return of 1.6% on November 18, 2015. The biotechnology subgroup has a weight of ~20.8% in XLV's portfolio. The subgroup consists of eight biotechnology stocks that include stocks like Vertex Pharmaceuticals (VRTX), Biogen (BIIB), and Celgene (CELG). The three stocks returned 3.9%, 4.5%, and 4.2%, respectively.
The graph above reflects the performance of XLV's biotechnology subgroup since November 16, 2015, on a day-to-day basis. During this period, XLV's biotechnology subgroup gave a return of 5.6%, XLV returned 3.7%, and SPY returned ~3.1%.
Article continues below advertisement
Gilead Sciences rose
Gilead Sciences (GILD) gained 3.5% and was one of the top performers in the biotechnology subgroup. The stock is on an upward trend ever since the company's press release announced that Zydelig, when combined with Bendamustine and Rituximab, showed superior efficacy to Bendamustine/Rituximab in a phase 3 study of patients with relapsed chronic lymphocytic leukemia. It was also reported that the interim analyses result from the study will be presented as a late-breaking abstract at the American Society of Hematology's (or ASH) annual meeting.
The stock closed at $108.13, trading below the 100-day moving average but above the 50-day and 20-day moving averages. GILD's trailing-12-month price-to-earnings ratio stood at 9.9x. GILD has a book value of $12.02 per share and at its current price, the stock is trading at a price-to-book value ratio of 9x. GILD has a weight of 5.7% in XLV's portfolio.