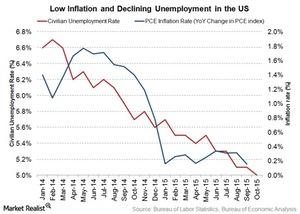 Bill Gross Shuns the Taylor Rule and the Phillips Curve
The Taylor rule and the Phillips curve
The Taylor rule is a backward-looking model used to determine short-term interest rates in an economy. It's highly sensitive to deviations in the output gap, and to inflation from expected numbers. This rule also doesn't take into account long-term economic prospects. The Phillips curve suggests a trade-off between inflation and employment. This is to say that, to have low inflation, you will have more unemployment, and to have low unemployment you will have high inflation.
However, this theory fails in two situations:
stagflation, meaning high inflation and high unemployment
growth deflation, meaning low inflation and low unemployment
Article continues below advertisement
Is the United States facing growth deflation?
The US economy (SPY) (SPXL) (SPXS) seems to be moving towards growth deflation. Inflation remains anchored at low levels—far from the 2% target—while the unemployment rate has been falling at a steady pace. The rate of unemployment in the United States fell from ~10% during 2009–2010 to 5% currently.
According to Bill Gross, continued reliance on these models "will likely be a continued imbalance between savings and investment, a yield curve too flat to support historic business models, and an anemic 1-2% rate of real economic growth in even the most robust developed countries."
The problem with the US economy (VOO) (SPLV) could be its zero-bound yield curve, with the solution being a steeper yield curve.
For more, please refer to Can a Rate Hike Invert the US Treasury Yield Curve?