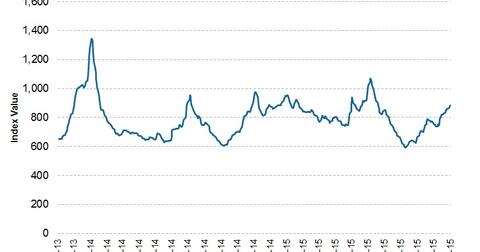 Baltic Dirty Tanker Index Rises in November
By Sue Goodridge

Nov. 23 2015, Published 6:28 p.m. ET
Baltic dirty tanker index
The BDTI (Baltic Dirty Tanker Index) rose by 8% for the first 19 days of November and stood at 833 on November 19, 2015. The last 21-day average of the BDTI was recorded at 814. The index was also higher compared to the level seen in October, when it fluctuated in the range of 725–790.
The BDTI tracks shipping rates for the transportation of crude oil on representative routes. Researchers and analysts follow this index to assess companies' revenues and potential earnings.
Article continues below advertisement
 Year-over-year growth
As tanker rates are seasonal, it's important to look at BDTI on a YoY (year-over-year) basis. Compared to the same period last year, the BDTI was 8% lower.
Tanker rates
According to shipping company MJLF's spot market scorecard, the VLCC (very large crude carrier) rate for the benchmark route Gulf to Japan dropped to $75,200 per day on November 20, 2015 from its 21-day average of $75,500 per day. The VLCC rate slightly dropped due to limited activity in the week as charters finished their November programs.
On the other hand, the average Suezmax rate on November 20, 2015, rose to $52,950 per day from its 21-day average of $51,700 per day. As European refineries concluded their maintenance programs, activity in mid-sized tankers rose, which gave boost to Suezmax rates.
Tanker rate expectations
December and January have typically been the strongest months for the crude tanker industry. Seasonal factors such as foggy winter weather hamper the smooth sailing of tankers, and transit delays are experienced. This tightens the tanker supply, which in turn causes tanker rates to rise.
Also, the demand for crude oil rises due to colder weather and the conclusion of refinery maintenance. Given all these factors, we'll likely see a spike in tanker rates and thus in the BDTI.
Tanker companies such as Frontline (FRO), Teekay Tankers (TNK), Tsakos Energy Navigation (TNP), Nordic American Tankers (NAT), DHT Holdings (DHT), and Euronav (EURN) will benefit from these seasonal factors.
Investors who are interested in broad exposure to industrial stocks can invest in the SPDR Dow Jones Industrial Average ETF (DIA).