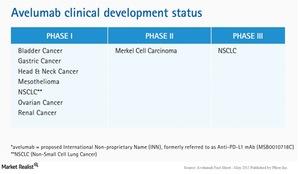 Avelumab Receives Breakthrough Therapy Designation
By Mike Benson

Nov. 23 2015, Updated 2:34 p.m. ET
What is Avelumab?  
Avelumab is the proposed International Nonproprietary Name (or INN) for the anti-PD-L1 monoclonal antibody. This drug is under clinical investigation for metastatic Merkel cell carcinoma (or MCC), a type of skin cancer, and other cancers.
The drug is a part of the Merck-Pfizer Alliance, where Merck KGaA, Germany and Pfizer (PFE) will jointly develop and commercialize anti-PD-L1 to accelerate its presence in immuno-oncology. Immuno-oncology is a type of therapy where the patient's immune system is used to treat cancer. The clinical development status for Avelumab is shown in the chart above.
On November 18, 2015, Pfizer indicated in a press release that Avelumab had received a breakthrough therapy designation by the U.S. Food and Drug Administration (or FDA) for metastatic Merkel cell carcinoma for patients who have completed at least one course of chemotherapy.
Article continues below advertisement
What is breakthrough therapy designation?
As per section 902 of the FDA Safety and Innovation Act (or FDASIA), "A breakthrough therapy is a drug intended alone or in combination with one or more other drugs to treat a serious or life-threatening disease or condition, and preliminary clinical evidence indicates that the drug may demonstrate substantial improvement over existing therapies on one or more clinically significant endpoints, such as substantial treatment effects observed early in clinical development."
The drugs receiving breakthrough therapy designation will be reviewed on a priority basis, based on the results of clinical trials.
Other designations received by Avelumab
Avelumab has been granted the fast track designation and orphan drug designation by the FDA. As per the FDA, "Fast track is a process designed to facilitate the development, and expedite the review of drugs to treat serious conditions and fill an unmet medical need."
The orphan drug designation is a designation granted to a drug used for the treatment of a rare disease or condition. The criteria for qualifying as an orphan drug are specified in the Orphan Drug Act by the FDA. Orphan drug designation provides the drug developer with incentives, including tax credits, for clinical trials.
Other drugs used for the treatment of skin cancers such as melanoma include Merck & Co.'s (MRK) Keytruda, Novartis's (NVS) Mekinist, Roche's Cotellic, and Bristol-Myers Squibb's (BMY) Opdivo.
In order to divest risk, investors could consider ETFs such as the iShares US Pharmaceuticals ETF (IHE), which holds ~9.5% of its total investments in Pfizer and ~8.4% of its total investments in Merck & Co.