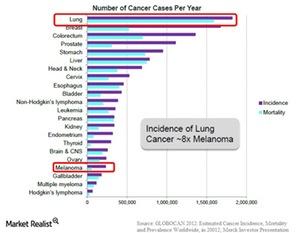 AstraZeneca's Tagrisso Approved by FDA for Lung Cancer
By Mike Benson

Nov. 17 2015, Published 2:34 p.m. ET
Tagrisso's FDA approval
AstraZeneca's (AZN) new cancer drug, AZD9291, was approved by the US Food and Drug Administration (or FDA) on November 13, 2015, for the treatment of patients with metastatic epidermal growth factor receptor (or EGFR) T790M mutation-positive non-small cell lung cancer (or NSCLC). The brand name for this drug is Tagrisso.
Article continues below advertisement
Accelerated program
The FDA approved Tagrisso under an accelerated approval program that allows earlier approval of drugs for the treatment of serious diseases based on clinical data. Also, the drugs have to fill an unmet medical need based on the surrogate endpoint. A surrogate endpoint is a marker that predicts clinical benefits, but is not itself a measure of clinical benefit, and using a surrogate endpoint shortens the approval time of any drug. The accelerated approval program provides earlier patient access to promising new drugs while the company conducts confirmatory clinical trials.
According to the National Cancer Institute, lung cancer is the leading cause of cancer death in the United States, with ~221,000 new diagnoses and ~158,000 deaths in 2015. The most common type of lung cancer is non-small cell lung cancer (or NSCLC). It occurs when cancer cells form in the tissues of the lung. Approximately 85% of all lung cancers in the US are NSCLC, and 10% to 15% of these are EGFR mutation-positive. The EGFR gene is a protein involved in the growth and spread of cancer cells.
About AZD9291
Targisso, also termed AZD9291, is an 80mg, once-daily tablet indicated for the treatment of patients with metastatic EGFR T790M mutation-positive non-small-cell lung cancer. FDA-approved tests have indicated Targisso as the first medicine for patients who have already been treated with an EGFR-blocking medication.
The World Health Organization (or WHO) has proposed the International Nonproprietary Name (or INN) for AZD9291 as Osimertinib. This name has been accepted as the US Adopted Name by the American Medical Association, and may be formally adopted worldwide during November 2015.
Some of the EGFR inhibitors used to treat various types of cancer include Iressa from AstraZeneca, Tarceva from Astellas Pharma (ALPMY), Tykerb from Novartis (NVS), Erbitux from Eli Lilly (LLY), and Vectibix from Amgen (AMGN).
Investors can consider ETFs like the VanEck Vectors Pharmaceutical ETF (PPH), holding ~4.5% of its total portfolio in AstraZeneca, or the iShares Global Healthcare ETF (IXJ).