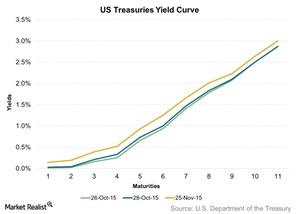 Assessing the Treasury Yield Curve post–October Policy Meeting
By Lynn Noah

Nov. 30 2015, Published 12:06 p.m. ET
Movement in Treasury yields in the Secondary market
Treasury yields have risen since the Federal Open Market Committee (or FOMC) meeting on October 27–28. The rise in short-term yields was higher than the rise in long-term yields. So the price of short-term bonds should fall more than the price of long-term bonds, leading to a flatter Treasury yield curve.
Federal Reserve officials were a bit hawkish in the October meeting, given the tone in the policy statement. They described the economy growing at a solid pace, which led to speculation among market participants that the Fed may raise interest rates for the first time since 2008 during the next policy meeting, scheduled for December 15–16.
Article continues below advertisement
From October 28 to November 25, 2015, the yields on one-month, three-month, six-month, and one-year Treasury bills rose by 11 basis points (or bps), 15 bps, 18 bps, and 19 bps, respectively. They ended at 0.14%, 0.19%, 0.39%, and 0.52%, respectively. The yields on two-year and three-year notes rose 20 bps and 25 bps, respectively, and ended at 0.93% and 1.25%. For the same period, the ten-year benchmark yield rose 13 bps to end at 2.2% on November 25, 2015.
Minutes of the October 27–28 FOMC policy meeting
The minutes of the October 27–28 FOMC policy meeting were released on November 18. Following the release of the minutes, short-term Treasury yields soared. The minutes pointed on the increased likelihood of lift-off in December.
Minutes of October 27–28 meeting suggested that "the real GDP was increasing at a moderate pace, but that the improvement in labor market conditions had slowed somewhat in recent months. Inflation continued to run below the FOMC's longer-run objective of 2%."
Article continues below advertisement
"But the inflation was anticipated to remain near its recent low level in the near term, reflecting the transitory effects of declines in energy and import prices, members continued to expect inflation to rise gradually toward 2% over the medium term as the labor market improved further and such transitory effects dissipated." However, with the recent rebound in energy prices, energy companies like Kinder Morgan (KMI), Chevron (CVX), and ConocoPhillips (COP) have benefitted. Their stock prices rose.
Finally, it's important to assess the progress toward the Committee's objectives in the light of cumulative gains rather than placing excessive weight on month-over-month changes in incoming economic data.
Impact on mutual funds
The Dreyfus US Treasury Long-Term Fund (DRGBX) fell 2.1% from October 28 to November 25, 2015. For the same period, the Ivy Limited-Term Bond Fund – Class A (WLTAX), which is a short-term mutual fund, fell 0.6%.
In the next article of this series, we'll look at which mutual funds to choose from when interest rate rises.