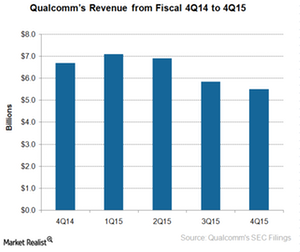 Assessing Qualcomm's Weak Guidance for 1Q16
By Puja Tayal

Updated
Analyst estimates versus weak guidance
Qualcomm (QCOM), a wireless semiconductor manufacturer, posted its 4Q15 earnings on November 4, 2015—results that beat analyst estimates—but also posted weak guidance for 1Q16.
On a YoY (year-over-year) basis, the company's revenue fell by 18% to $5.5 billion, and its non-GAAP (generally accepted accounting principles) EPS (earnings per share) fell by 28% to $0.91 in 4Q15. This was above the analyst expectation of $5.21 billion in revenue and $0.86 EPS, and these results were on the higher end of the company's 4Q15 guidance, which it gave in the previous quarter.
Still, Qualcomm expects to post revenues between $5.2 billion and $6 billion in 1Q16, which would be down by 15% to 27% YoY, while it expects its non-GAAP EPS to land between $0.80 and $0.90.
Article continues below advertisement
Profitability
In 4Q15, Qualcomm's non-GAAP operating income fell by 30.4% YoY to $1.6 billion, whereas its net income fell by 33% YoY to $1.43 billion. The company's revenues during the quarter fell by 18% YoY. Meanwhile, its non-GAAP R&D (research and development) and SG&A (selling, general, and administrative) expenses rose by 2.2% YoY, which affected the company's operating margins. Qualcomm expects these expenses to rise by approximately 2%–4% in 1Q16.
Cash position
In 4Q15, the company generated $1.68 billion in cash from operations, spent $2.3 billion in share buybacks, and payed out $179 million in capital expenditures. As of September 27, 2015, Qualcomm's cash reserves stood at $17.3 billion.
Troubles ahead for Qualcomm?
Even though Qualcomm's 4Q15 results beat analyst estimates, the results were weaker than 2014 results due to troubles in licensing and in its mobile chip business, in addition to a $975 million fine from China's (MCHI) anti-monopoly regulator.
The company lost business from its two biggest customers, Apple (AAPL) and Samsung Electronics (SSNLF), who decided to use their own chips instead of Qualcomm's chips. The company expects these struggles to continue in the short-term and consequently reported weaker guidance for 1Q16.
Moreover, Qualcomm has been facing continuous pressure from activist investor Jana Partners to consider a split like the Hewlett-Packard Company (HPQ) to boost its share price. The company has been undergoing a strategic review and expects to complete it by the end of 2015.
We'll discuss each of the above challenges in detail in this series. But first, let's look at what Qualcomm's mobile chip segment is up against in 1Q16.