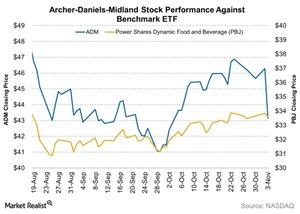 Archer Daniels Midland's Stock Reacts to Unimpressive Results
By Sushree Mohanty

Nov. 4 2015, Published 6:28 p.m. ET
Market reaction
In November, Archer Daniels Midland (ADM) reported its third quarter fiscal 2015 results. The company's stock didn't react well to the results, falling by 7% and closing at $43.15. The stock had been following a rising trend since the start of October, trading in the range of $42–$44.
Shares showed a sudden rise of 3% following the company's announcement of its acquisition of Eatem Foods Company on October 2, 2015. The company's news of the completion of the global sale of its cocoa business also had a positive effect on its stock. ADM's shares have dropped 11% since the beginning of the year. The stock has fallen 1.5% in the last 12 months.
Article continues below advertisement
Archer Daniels Midland procures, transports, stores, processes, and merchandises agricultural commodities and products. It's part of the food and agricultural industry and has its headquarters in Chicago, Illinois. Its peers in the industry are Campbell Soup (CPB), Hormel Foods (HRL), and Tyson Foods (TSN). These stocks closed at $50.23, $67.77, and $45.34, respectively, on November 3, 2015.
One of the major consumer staples ETFs is the PowerShares Dynamic Food & Beverage ETF (PBJ). It invests 4.9%, 2.8%, and 2.7%, respectively, in Archer Daniels, Campbell Soup, and Tyson Foods. It closed at $33.61 on November 3, 2015. PBJ's YTD (year-to-date) returns are 10.3%.
Key highlights of 3Q15
ADM's adjusted EPS fell 30%,  from $0.86 in 3Q14 to $0.60 in 3Q15.
ADM's trailing-four-quarter average adjusted ROIC (return on invested capital) was 8.3%, down 40 basis points year-over-year, and 170 basis points above the annual WACC (weighted average cost of capital) of 6.6%.
During the first nine months of 2015, the company returned $2.3 billion to its shareholders through dividends and the repurchase of 37.5 million shares.
Article continues below advertisement
Management's view on the performance
The company's chief executive officer Juan Luciano stated, "The ADM team executed well in an environment very similar to the second quarter. Agricultural Services earnings were limited by lower margins and volumes of North American exports, due to the continued strength of the U.S. dollar and ample global crop supplies, particularly from South America. In Corn, we continue to confront very weak industry ethanol margins, while sweeteners and starches results remain solid amid tight supplies."
The management also mentioned that in the Oilseeds segment, good global meal demand again supported soybean crushing results, and solid origination volumes contributed to South American operations. However, continued weak oil demand, particularly outside the United States, weighed on Archer Daniels Midland's soft seeds business.
In the Wild Flavors and Specialty Ingredients segment, the impact of macroeconomic headwinds, weaker demand from some emerging economies, and the strong US dollar had a greater impact.