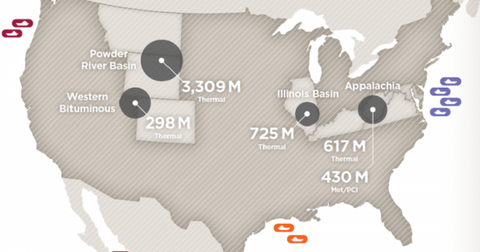 How Arch Coal Inched Closer to Bankruptcy after October 27, 2015
By Mike Sonnenberg

Updated
Arch Coal's debt exchange offer
After keeping the program open for almost four months, Arch Coal (ACI) finally terminated its debt exchange offer on October 27. The debt exchange offer was the company's attempt to offload some of its $5.1 billion debt. However, opposition from some of the affected creditors and a pending lawsuit prevented the deal from happening.
Article continues below advertisement
The history
On July 2, the company launched a debt exchange program to deleverage its balance sheet and to improve its liquidity position. The debt exchange offer was extended a couple of times due to certain disagreements with some lenders. However, in late August, the deadlock seemed to break when Bloomberg Businessweek reported that the company was "seeking a compromise with lenders opposing a debt-swap deal."
Under the terms of the terminated debt exchange deal, holders of senior debt would have had to let go of over half of the face value of ACI's bonds in their holdings, which was intended to reduce Arch Coal's debt level and interest expenses. You can find details about the debt exchange program in the company's filing.
Article continues below advertisement
What's next?
Apart from working hard on the cost front, Arch Coal (ACI) has taken various measures over past few months to stay afloat. In August, the company completed a reverse swap of shares in order to stay listed on the NYSE. Peabody Energy (BTU) also completed a reverse swap on September 30 in order to stay listed. The debt exchange was the company's last serious hope to remain solvent in the current low coal (KOL) price environment.
While Arch Coal is still negotiating with creditors for debt restructuring, the fallout of the debt exchange deal has certainly taken the company closer than ever to bankruptcy. In its 3Q15 filings, the company accepted that chapter 11 bankruptcy could be necessary. Markets expect the company to file for bankruptcy as early as December 2015.
In the next part of this series, we'll look at the effects of natural gas on Arch Coal's Appalachia segment in 3Q15.