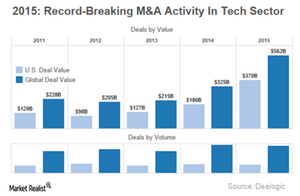 Applied Materials Is Open to Merger Opportunities
By Puja Tayal

Nov. 17 2015, Updated 8:07 a.m. ET
Applied Materials is open to merger opportunities
In the last part of the series, we saw that semiconductor equipment manufacturer Applied Materials (AMAT) reported growth despite lower-than-expected spending in wafer fabrication equipment. The company is placed to tap the growth opportunities posed by the memory market. So, why did the company declare that it's open to a merger?
Article continues below advertisement
Consolidation wave
A consolidation wave hit the company's customers—chipmakers—who have been plagued by the slowdown in the sales of personal computers and smartphones. Companies are either seeking buyers or acquiring smaller rivals to expand their product offerings and show growth as the market matures.
This forced semiconductor equipment manufacturers, who are facing slowing sales, to resort to a similar strategy to broaden their machine portfolio. An example is Lam Research's (LRCX) acquisition of KLA-Tencor (KLAC). It was announced in October 2015. While the former sells machines to make silicon wafers, the latter sells machines to inspect wafers. The combined company will be tough competition for Applied Materials in the equipment space.
Applied Materials and merger
In April 2015, Applied Materials' merger with Tokyo Electron was scrapped due to antitrust concerns. If the deal had gone through, it would have created a company with a market value of $29 billion.
However, Applied Materials is still open to a merger. Applied Materials' CEO, Gary Dickerson, clarified that he will be selective in the merger opportunities. He will choose the company that meets its three criteria of "financial return, strategic alignment, leadership in whatever segments the company is participating in."
Industry outlook
As we saw in the last part of the series, the growth in the chip manufacturing equipment is slowing down but it's rising in the memory space. The company expects the growth to rise in the second half of fiscal 2016 as foundries increase their capital spending and major memory manufacturers ramp up the production of 3D NAND technology. 3D NAND is a non-volatile memory technology that incorporates multiple layers of cells to boost the storage capacity.
Its key customer, Intel (INTC), will adopt 10-nm (nanometer) technologies in fiscal 2016. This will create the need for more equipment. A change in display technology in fiscal 2016 will also boost the growth.
Analysts' have mixed opinions about the company's future growth. The timing of technology inflections and the company's response to these inflections will determine its growth in the coming years.
The SPDR S&P 500 ETF (SPY) has a 0.11% holding in Applied Materials' stock.