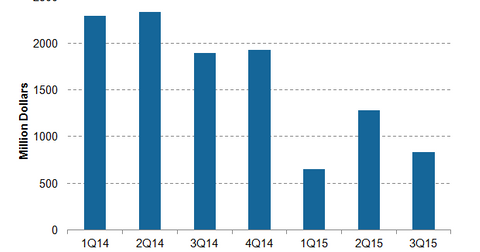 Apache's 2Q15 Surplus Cash Flows Dwindled in the Third Quarter
By Vineet Kulkarni

Nov. 28 2015, Updated 10:05 a.m. ET
Cash flow from operations
Weaker commodity prices had a major impact on Apache's short-term as well as long-term cash flows. The drop in oil and gas prices impacted Apache's proven reserves, which deteriorated 13% in value compared to 2014.
Net cash provided from continuing operations for the nine-month period ended September 30, 2015, totaled $2.6 billion, a fall of $3.2 billion from the same period in 2014. A write-down of oil and gas properties totaled $3.7 billion due to the continued low commodity price environment. Apache has been writing down a significant amount in the last three quarters due to subdued commodity prices.
Article continues below advertisement
Debt and liquidity
Apache could not maintain its cash flow surplus over capital expenditure as it did in the second quarter of 2015. The prolonged commodity price fall ate into cash flow from operations and marred the company's profitability.
So far in 2015, Apache has managed to repay $2.5 billion of debt, reducing total debt by 22%. As of September 30, 2015, the company's total outstanding debt stood at $8.8 billion, and the company held $1.7 billion in cash and equivalents. The nearest long-term debt maturity for Apache is $700 million in 2018. Apache is expected to generate $500 million from non-core asset sales in the fourth quarter of 2015.
As a pure-play oil explorer and producer, Apache will surely benefit when crude oil prices start rallying, but management is ready for continued low oil prices. Apache plans to further reduce capital expenditure and improve asset effectiveness.
Effective hedging helps maintain cash flows
A disciplined hedging portfolio can be helpful not just in protecting oil (UCO) volumes, but it also can result in generating revenues. Apache (APA) does not have any open derivative positions as of September 30, 2015. Reportedly, Apache unwound all its hedges in late 2014, not expecting any further oil (USO) price drop.
Several exploration and production companies have improved their cash flow from operations because of their aggressive hedging strategies. Newfield Exploration (NFX) is one example that has benefitted from its current hedging portfolio. Bonanza Creek Resources (BCEI) has hedged 60% of its production using swaps and collars in 2015. According to a survey of 48 US energy companies (XLE) done by IHS, exploration and production companies have hedged only 11% of their total production from 2016 at prices significantly below those locked in for 2015.