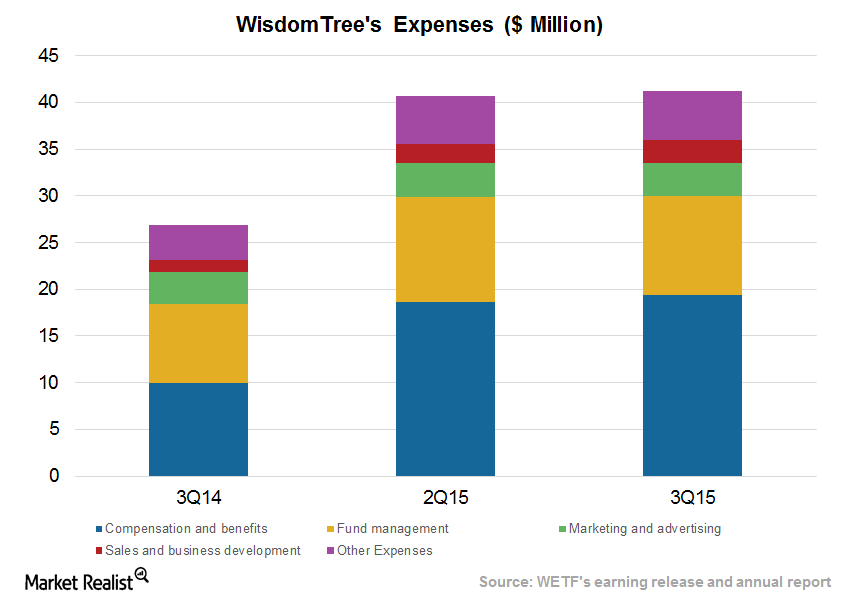 Analyzing WisdomTree's Compensation and Marketing Initiatives
By Robert Karr

Nov. 13 2015, Updated 4:06 p.m. ET
Expenses
WisdomTree's (WETF) major expenses include compensation and benefits, fund management and administration, marketing and advertising, sales and business development, professional and consulting fees, occupancy, communications and equipment, and other expenses.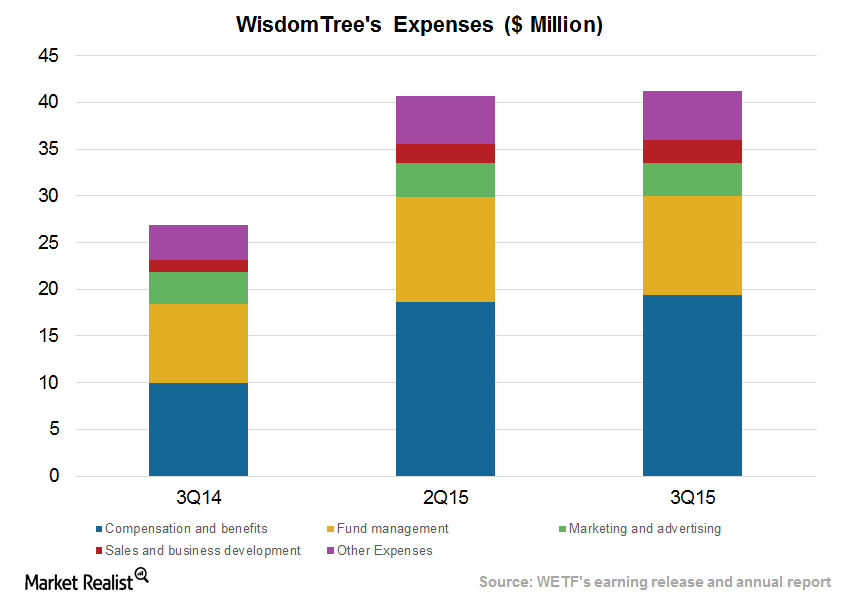 WisdomTree's expenses rose by 53.5% to $41 million in 3Q15 as compared to $27 million in the corresponding quarter last year. In comparison, its revenues expanded by 71% for the same period.
Article continues below advertisement
Compensation and benefits
WisdomTree's compensation and benefits expense increased by 94.3% from the third quarter of 2014 to $19.4 million, forming 47% of total expenses due to higher accrued incentive compensation from record-setting inflow levels, increased headcount-related expenses to support growth, and higher stock-based compensation due to equity granted as part of incentive compensation. The company gave $1.5 million in compensation to employees associated with European ETFs. In comparison to the previous quarter, expenses rose by 4% due to higher headcount-related costs as part of the company's strategic growth initiatives.
Fund management and administration
In 3Q15, WisdomTree's fund management and administration expense rose 24.3% to $10.5 million, forming 25% of total expenses as compared to the prior-year quarter. The increase in expenses was mainly due to higher average AUM (assets under management), inflow levels, and a number of US ETFs. The company had a total of 79 US-listed ETFs and 74 European-listed ETPs at the end of the quarter.
Other expenses
WisdomTree saw an increase in expenses for marketing and other expenses mainly due to a push for growth and investment in technology. These increases were partially offset by lower fund-related expenses and professional fees in 3Q15 when compared with the previous quarter.
WisdomTree posted a net income margin of 33% in the last fiscal year. Let's compare this to the margins of its peers:
Together, these companies form 1.7% of the SPDR S&P 500 ETF (SPY).