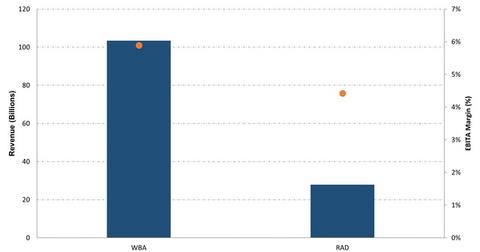 Analyzing Walgreens and Rite Aid: 2 Pharmacy Giants
By Sonya Bells

Nov. 2 2015, Published 1:25 p.m. ET
More about the two pharmacy giants
We'll take a closer look at the target and acquiring company of the proposed Rite Aid (RAD) deal—Walgreens Boots Alliance (WBA).
Article continues below advertisement
Walgreen Boots Alliance
Walgreens Boots Alliance is the second-largest pharmacy retail chain in the US in terms of market cap and sales. While CVS (CVS) holds the first position in regards to market share and market capitalization, Walgreens is the largest drugstore operator in terms of locations in operation in the US.
Based in Deerfield, Illinois, the company operates under the Walgreens and Duane Reade banners in the US and as Boots in the United Kingdom and elsewhere. The company has a presence in more than 25 countries.
Walgreens acquired drugstore operator Alliance Boots in December 2014. Before the merger, Walgreens operated drugstores across the US and in Puerto Rico. With the acquisition of Alliance Boots, Walgreens entered into Europe, the Middle East, and Asia.
The company has a market cap of more than $92 billion. It's worth $103 billion in sales for the fiscal year ending in August 2015. Walgreens' average EBITDA (earnings before interest, tax, depreciation, and amortization) margin during the last five fiscal years has been ~6.8%.
About Rite Aid 
Rite Aid is based in Pennsylvania. It has about 4,600 drugstores in 31 states. During fiscal 2015, Rite Aid bought Envision Pharmaceutical Services, a pharmacy benefit manager, for ~$2 billion. The company has a portfolio of 1,859 wellness stores. It offers organic food and natural personal care products.
Rite Aid is a relatively smaller company compared to Walgreens. It has a market cap of around $8 billion. Its revenue stood at $26.5 billion during the fiscal year ending January 31, 2015. The company has a highly leveraged balance sheet with a net debt-to-EBITDA of 5.2x during 2Q16—the quarter ending August 29, 2015.
ETF exposure
The target company, Rite Aid, and the acquiring company, Walgreens Boots Alliance, are part of the SPDR S&P Retail ETF (XRT). Rite Aid has a weight of 0.98% in XRT. Walgreens has a weight of 0.94% in XRT. Walgreens Boots Alliance and CVS have exposure to the SPDR S&P 500 ETF (SPY). They have a combined weight of ~1%.