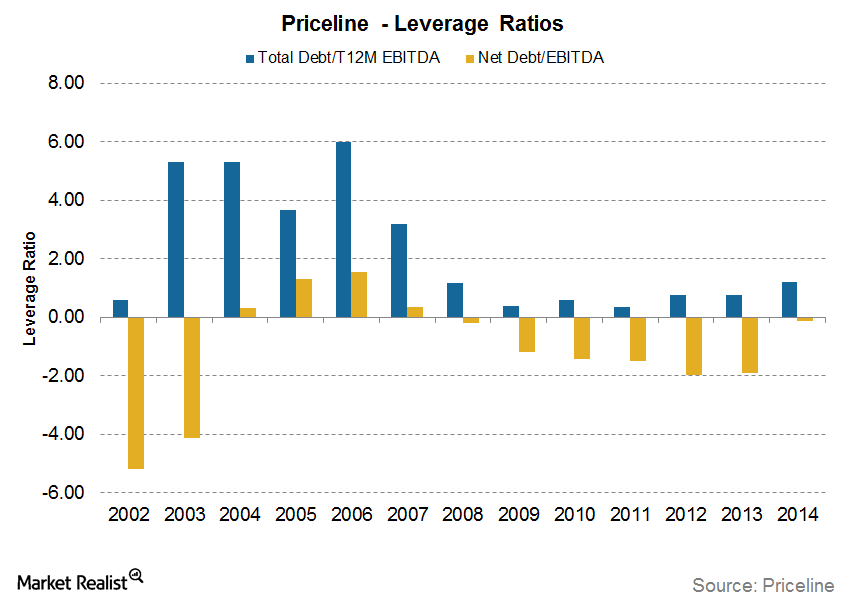 Analyzing Priceline's Financial Condition
By Ally Schmidt

Nov. 19 2015, Updated 12:05 p.m. ET
Overview
Priceline Group (PCLN) has seen strong growth in its hotel and advertising operational revenues, but this growth was subdued by foreign currency headwinds. Let's analyze the company's financial position in detail.
Article continues below advertisement
Cash and cash equivalents
Priceline Group has successfully grown its cash reserves over the past few years. The company had more than $8 billion in cash as of the end of 2014. However, the company spent huge amounts of cash for several acquisitions, primarily the restaurant reservations platform OpenTable, which lowered the company's cash reserves.
In the first half of 2015, Priceline Group generated about $911.36 million from its operating activities. However, its cash and cash equivalents fell by about 40% due to forex headwinds and losses in foreign currency contracts.
Debt
With the top two online travel companies, Priceline and Expedia, on an acquisition spree, all these acquisitions do not come cheap. The companies have seen their debt levels rise considerably. Priceline's aggressive acquisitions in the past two years led the company's debt levels to soar higher. As shown in the graph above, Priceline's debt levels grew by a whopping 40% in the first half of 2015.
Priceline's (PCLN) leverage ratios have been increasing for the past four years, from 0.34x in 2011 to 1.18x in 2014. However, it is well below the levels of 5x–6x seen from 2003–2006.
Its total debt-to-EBITDA ratio has increased from 0.63x in 2Q14 to 1.65x in 2Q15. PCLN has also moved from being net debt negative to net debt positive. Its net debt to EBITDA has increased from -1.87x in 2Q14 to 0.68x in 2Q15.
However, the company is generating enough cash to make its interest payments comfortably. The interest coverage ratio currently stands at 16x.
Article continues below advertisement
Return ratios
Priceline has generated impressive returns in the past, however, its returns have been deteriorating for the past two years. Currently, its ROA (return on assets) is 16.5% and its return on invested capital stands at 20%.
Better profitability
The Priceline Group (PCLN) has also seen its gross margins improve from 77.55% in 1Q13 to 91.78% at the end of the last quarter, 2Q15. On the other hand, net margins for the company have fallen due to its expenditure on advertising. Currently, the company's profit margin stands at 26.9%.
PCLN has seen strong financial stability amid aggressive business expansion. Priceline competes with major online travel companies like Expedia (EXPE), Ctrip (CTRP), Travelzoo (TZOO), MakeMyTrip (MMYT), and TripAdvisor (TRIP). Priceline accounts for 3% of the Top Guru Holdings Index ETF (GURU).