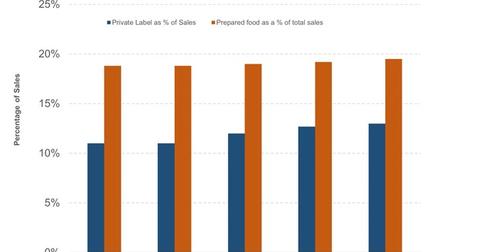 Analyzing the Opportunities and Threats for Whole Foods after Fiscal 2015
By Sonya Bells

Updated
Future opportunities
In this part, we'll continue our SWOT (strengths, weakness, opportunities, and threats) analysis of Whole Foods (WFM) from the preceding two parts of this series, shifting our focus to the opportunities and threats Whole Foods faces after fiscal 2015. Let's begin by outlining the possible actions that Whole Foods could take in an effort to grow its business, and attempt to arrive at an understanding of the factors that could reduce the company's business performance in fiscal 2016.
Article continues below advertisement
Private label penetration and prepared foods
Whole Foods (WFM) has maintained a strong focus on exclusive brands and prepared foods sales. The company operates near some of the highest volume restaurants in the country. Its exclusive brands and prepared foods sales accounted for close to $5 billion in fiscal 2015, or one-third of its retail sales. Its private brands and prepared food expansions are top priorities for the company, according to its management guidance for fiscal 2016, and these have the potential of becoming key differentiators in Whole Foods' growth.
Whole Foods' rival Kroger has a strong focus on building its own corporate brands. Its private label sales accounted for 26% of total store sales in fiscal 2015.
Expansion through the 365 format
Whole Foods plans to introduce a new, smaller format (30,000 square feet) store concept, which it will call "365 by Whole Foods Market," in the second half of 2016. The 365 stores will essentially be budget-friendly versions of traditional Whole Foods stores that aim to appeal to cost-conscious Millennials seeking healthier food options. This initiative represents Whole Foods' response to the increasingly competitive environment for natural and organic foods.
Wal-Mart Stores (WMT) also recently opened its smaller Express locations, which have been a big hit among customers. But it remains to be seen if Whole Foods' new 365 concept does the trick for the company to keep up with the action in this niche.
Article continues below advertisement
Potential threats for Whole Foods
Whole Foods' biggest threat has been increasing competition from all corners. Traditional grocers such as Kroger (KR) are increasing their range of natural and organic foods. Kroger (KR) recently launched Simple Truth Organic range has become a billion-dollar brand within two years of its launch.
Meanwhile, Costco Wholesale Corporation (COST) has been claiming to be the largest organic seller in 2015, a position that was occupied by Whole Foods for several years. On the other hand, discount-orientated chains such as Trader Joe's are also expanding their product offerings and giving stiff competition to Whole Foods.
ETF exposure and what's next