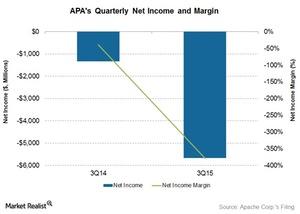 Key Highlights from Apache's 3Q15 Earnings Results
By Alex Chamberlin

Updated
Apache's 3Q15 revenues
Apache (APA) released its 3Q15 financial results on November 5. We will discuss the company's latest quarterly results in this series. We'll start with a snapshot of Apache's 3Q15 revenues and earnings. The company recorded $1.5 billion in total revenues and other income in 3Q15, down 56.5% from $3.4 billion recorded in 3Q14.
APA's revenues for the latest quarter fell due to much lower crude oil price realizations across all of its product lines. This was partially offset by higher production in its international operations. Revenues in 3Q14 were augmented by $273 million in gains on derivative instruments. Such gains were absent in 3Q15.
Article continues below advertisement
APA's earnings in 3Q15 versus 3Q14
Apache recorded a $5.7 billion net loss in 3Q15 versus a $1.3 billion net loss in 3Q14. Net loss margin slumped to a negative 379% in 3Q15 from negative 39% a year earlier.
What caused APA's extraordinary loss in 3Q15?
In 3Q15, Apache recorded a $3.7 billion (after-tax) ceiling test write-down resulting from lower commodity prices. APA anticipates a further ceiling test write-down in 4Q15. When net book value of the assets exceeds discounted after-tax future net cash flows, a ceiling test write-down is recorded. APA also recorded a $1.5 billion charge related to an increase in the valuation allowance on deferred tax assets. The low energy price environment made the realization of the deferred tax assets unlikely, triggering the valuation allowance.
Article continues below advertisement
Compared to APA's 56% revenue fall in 3Q15 over 3Q14, Concho Resources (CXO) recorded a 34% decline in 3Q15 revenues over 3Q14. Permian-based independent energy producer CXO's market capitalization stands at ~$14.3 billion compared to $20.4 billion for APA. APA is 0.1% of the SPDR S&P 500 ETF (SPY).
APA management on costs and production
Despite the loss, APA's management was upbeat about increasing production and achieving cost reduction going forward. APA's chief executive officer, John Christmann, said in the 3Q15 conference call, "We made significant reductions in our run rate for both LOE and G&A costs, and we are taking steps to realize additional savings through the fourth quarter and into 2016 and beyond. We have delivered production growth both domestically and internationally, despite a dramatically reduced activity level. This result has been supported by our low underlying base decline, and today, we are again increasing our 2015 production guidance."
Next, we will discuss APA's earnings versus analyst estimates.