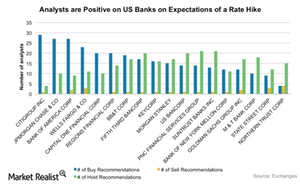 Why Analysts Are Bullish on US Banks in the Face of a Fed Rate Hike
Analyst recommendations
Of the 683 analysts covering the 21 banking institutions in the Financial Select Sector SPDR ETF (XLF), 332 have issued "buy" ratings, 31 have assigned "sell" ratings, and 320 have recommended "holds." With more than 50% buy ratings, analysts seem positive about the financial sector in the long term, most likely based on the robust fundamentals of these firms coupled with the improving US economy.
Wall Street (SPY) analysts are the most upbeat about Citigroup (C) as it has received "buy" ratings from all the 10 analysts who cover its stock. Shares of Citigroup have returned 3.6% in 2015 so far.
Article continues below advertisement
In contrast, analysts are most negative about Northern Trust Corporation (NTRS) and Comerica, as these stocks have received the least "buy" ratings. Shares of Northern Trust have received just four "buy "ratings from the 24 analysts tracking its stock while Comerica has received four "buy" rating among the 35 analysts tracking its stock. Shares of NTRS and Comerica have returned 11.8% and 0.4%, respectively, YTD (year-to-date) as of November 6, 2015.
Relative Strength Index
On the average, banks with exposure in XLF have a 14-day RSI (relative strength index) of 57. SunTrust Banks (STI) and JPMorgan Chase & Company (JPM), with RSIs of 64, have the highest numbers in this metric and may be considered relatively overvalued among their peer group in XLF. Meanwhile, Keycorp (KEY) and M&T Bank Corporation (MTB), with RSIs of 45 and 49, respectively, are oversold.
Shares of SunTrust Bank and JPMorgan Chase have returned 7.2% and 9.4%, respectively, YTD as of November 6. Meanwhile, Keycorp and M&T Bank have generated returns of -3.6% and -1.5%, respectively, during the same period.