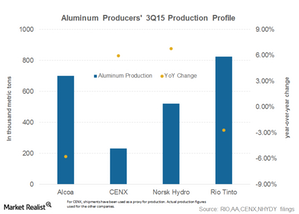 Aluminum Producers' 3Q15 Production Profiles and Future Plans
By Mohit Oberoi, CFA

Nov. 19 2015, Published 8:47 a.m. ET
Production profile
Aluminum production is a key driver of aluminum companies' performance. In this part of the series, we'll explore aluminum producers' 3Q15 production and guidance. Alcoa (AA), the largest aluminum producer in the US (SPY), produced 700,000 tons of aluminum in 3Q15, down 8% from the corresponding quarter last year. Alcoa has taken proactive measures over the last few years and has been curtailing its high-cost smelting capacity.
However, according to Bloomberg, citing South32's conference call, South32 plans to maintain its aluminum production despite lower aluminum prices. South32 spun off from BHP Billiton (BHP) earlier this year.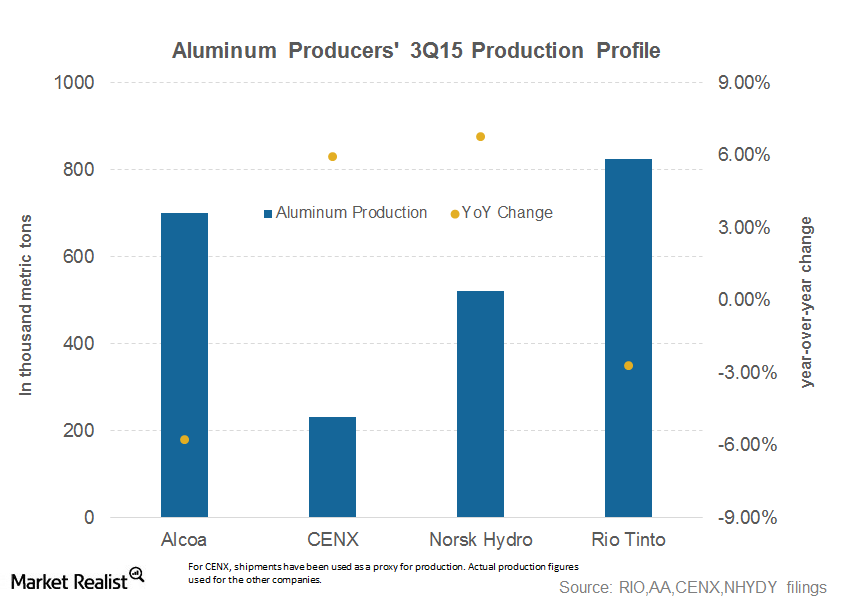 Article continues below advertisement
Alcoa's cuts
During its 3Q15 earnings presentation, Alcoa said that its 4Q15 aluminum production would be similar to 3Q15. However, we might see further dips in Alcoa's aluminum production. On November 2, 2015, Alcoa announced that the company would curtail its aluminum smelting capacity by 503,000 metric tons and its alumina refining capacity by 1.2 million tons. According to the company, the curtailments will begin in 4Q15 and will be complete by the end of 1Q16.
Rio Tinto (RIO) produced 848,000 tons of aluminum in 3Q15, a year-over-year (or YoY) decline of 2.7%. However, Norsk Hydro's (NHYDY) 3Q15 aluminum production rose ~7% YoY in 3Q15 to reach 520,000 tons.
Century Aluminum
Century Aluminum's 3Q15 aluminum shipments rose 6% YoY in 3Q15. However, the rising shipments were on account of full ownership of the Mt. Holly smelter that Century acquired last year from Alcoa. On October 30, 2015, a day after the company's 3Q15 earnings release, Century Aluminum announced plans to curtail one of the three potlines in its Sebree smelter by December 31. This move could negatively impact Century Aluminum's shipments in the coming quarters.
This is the third curtailment that Century Aluminum has announced in the last two months. In September, the company had curtailed one of the potlines in its Hawesville smelter. The Mt. Holly smelter also risks being idled if Century Aluminum is not able to negotiate a fresh power supply contract by December 31.
In the next part, we'll look at aluminum companies' 3Q15 cash flows.