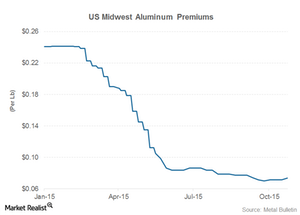 How Aluminum Premiums Could React to Alcoa's Curtailments
Aluminum premiums
For aluminum producers, the all-in aluminum price consists of the aluminum price plus regional aluminum premiums. The aluminum premium is a surcharge that consumers must pay on top of the prevailing prices in order to take delivery of the metal from the warehouses.
Aluminum premiums are a key indicator that investors in primary producers—including Aluminum Corporation of China (ACH), Norsk Hydro (NHYDY), and Rio Tinto (RIO)—should track.
Article continues below advertisement
Stable premiums in October
The above graph shows the movement in spot US Midwest aluminum premiums so far this year, as reported by the Metal Bulletin. US Midwest aluminum premiums were stable at $0.07 per pound in October. However, on a year-to-date basis, aluminum premiums have fallen more than 70%.
Now, the question would be whether Alcoa's (AA) capacity curtailments in the US can have some material impact on the physical premiums.
Can Alcoa's curtailments help?
Unlike aluminum prices that are based on daily trading on the LME (London Metals Exchange), aluminum premiums don't have any daily trading mechanism. According to metals information provider Platts, "Premium or discount is determined based on physical spot deals, bids and offers reported through a daily survey of spot buyers and sellers, using a representative sample of producers, traders and different types of end user."
Moreover, aluminum premiums are more regional in nature than aluminum prices. So, aluminum premiums in the US are different than in Europe or Japan. Regional aluminum premiums are based on the demand and supply dynamics in the region. According to Alcoa, aluminum premiums offer a much clearer reflection of the metal's market dynamics than the aluminum prices.
Alcoa's latest round of supply cuts are from its US smelters. The move would remove more than 500,000 tons of aluminum supply from the US markets (VTI). This represents around 10% of annual aluminum consumption in the United States. We could see some positive impact on the US physical aluminum premiums from Alcoa's latest curtailments.
Meanwhile, aluminum inventories are on a global downtrend. We'll discuss this in detail in the next part of this series.