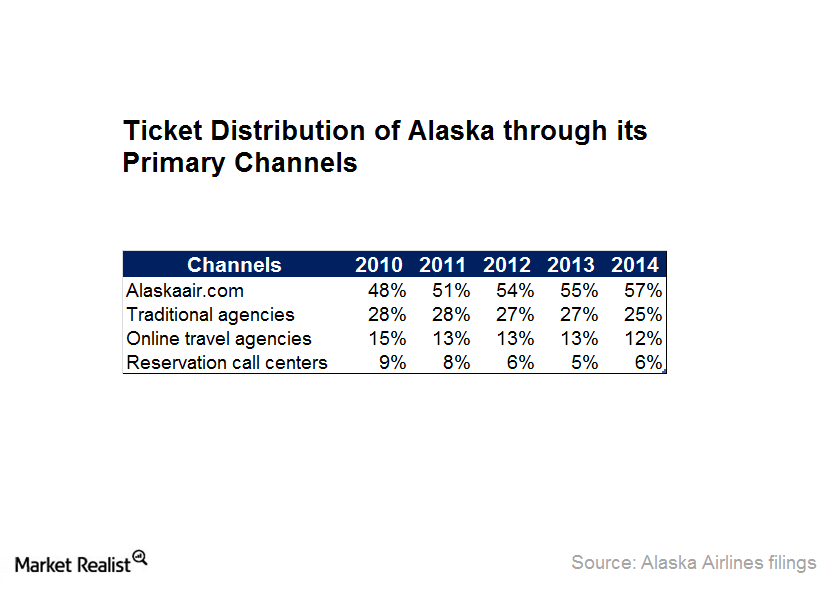 How Does Alaska Airlines Control Its Non-Fuel Expenses?
By Sam Matthews

Nov. 5 2015, Updated 8:07 a.m. ET
Alaska Airlines' low CASM
Controlling costs is an essential part of the airline business, as most of the players operate on thin margins. A small increase in operating costs could have a significant impact on their profit margins. Alaska Airlines (ALK) has consistently managed to reduce its operating costs in the last five years.
Alaska Airlines' operating expenses per available seat mile, measured as cost per available seat mile (or CASM), decreased from 13.1 cents in 2011 to 12.2 cents in 2014. The major driver for the fall in CASM is lower oil prices. Alaska Airlines also focused in decreasing its non-fuel costs.
Article continues below advertisement
Operating expenses per available seat mile, excluding fuel cost (measured as CASMex) has decreased from 8.82 cents in 2010 to 8.36 cents in 2014. Although Alaska Airlines is a legacy carrier, the operating cost for the airline looks more like that of low-cost carriers such as Southwest Airlines (LUV) and JetBlue (JBLU), which had CASMs of 12.5 cents and 11.8 cents, respectively, in 2014.
How does Alaska keep its costs low?
Alaska Airlines' continuous focus on productivity, cost management, and network growth helps the airline keep its costs low:
Alaska outsources all of its non-core operations such as aircraft maintenance, fleet service, facilities maintenance, and ground handling services.
Selling tickets via travel agents and running reservation call centers cost extra money to Alaska Airlines. The airline encourages its passengers to use its direct distribution channel, Alaskaair.com.
Alaska Airlines grew its employee productivity by 2% in 2014, which reduces its cost as it increases its capacity.
The airline invested in larger, more fuel-efficient aircraft, which reduced its fuel expenses by over 4.5% per ASM in 2010–2015. A newer, more streamlined fleet also helps Alaska Airlines keep its maintenance and training costs low.
Investors can gain exposure to Alaska Airlines via the iShares Transportation Average ETF (IYT). IYT holds ~20% in airline stocks and ~6% in Alaska Airlines. The ETF also holds JetBlue (JBLU), Southwest Airlines (LUV), and Delta Air Lines (DAL).