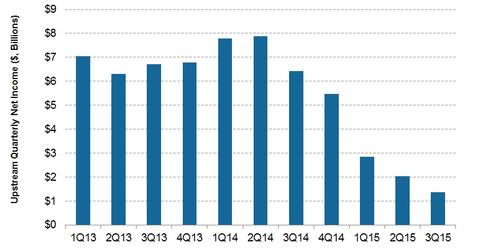 What Affected ExxonMobil's Upstream Business in 3Q15?
By Alex Chamberlin

Nov. 3 2015, Updated 10:08 p.m. ET
ExxonMobil's upstream net income
ExxonMobil's (XOM) upstream earnings witnessed a significant decline in 3Q15. The segment recorded $1.4 billion net income compared to $6.4 billion net income in 3Q14. ExxonMobil makes up 24% of the Vanguard Energy ETF (VDE).
In ExxonMobil's US upstream operations, the decline was particularly severe, as the company recorded a $442 million net loss versus a $1.3 billion net income in the year-ago quarter. In its non-US operations, the segment's net income fell 65%.
Article continues below advertisement
ExxonMobil's price realizations
In 3Q15, ExxonMobil's average crude oil price realization in the United States was 53% lower than in 3Q14. Natural gas price realization decreased 48% during the same period.
Crude oil and natural gas prices are the primary determinants of any energy upstream company's business. In its upstream operations, ExxonMobil explores, produces, and markets crude oil and natural gas. So a fall in energy prices results in lower revenue.
ExxonMobil versus Royal Dutch Shell's upstream earnings
Falling energy prices can disincentivize producers such as Royal Dutch Shell (RDS.A). Royal Dutch Shell's upstream net loss was $8.6 billion versus $4.0 billion net income in 3Q14.
Royal Dutch Shell, a Netherlands-based integrated energy company, has $166 billion market capitalization compared to XOM's $345 billion current market capitalization.
Article continues below advertisement
ExxonMobil's upstream production and projects
ExxonMobil's total crude oil and natural gas production increased in 3Q15 from 3Q14. On an oil-equivalent basis, total production increased 2.3% to 3,918 thousand barrels of oil equivalent per day (or MBOE/D) in 3Q15 over 3,831 MBOE/D in the previous year's quarter. ExxonMobil's natural gas production declined marginally in 3Q15 following regulatory restrictions in the Netherlands and a field decline.
ExxonMobil's recent upstream projects include Kizomba Satellites Phase 2 in Angola, Hadrian South in the Gulf of Mexico, the Kearl expansion in Canada, and the Papua New Guinea LNG (liquefied natural gas) project. In the company's 3Q15 conference call, management said, "Excellent progress has been made on our investment plans to start up 32 major projects between 2012 and 2017. We've started up 21 of these projects, including five this year, which added more than 750,000 oil equivalent barrels per day of working interest production capacity. More than 90% of these volumes are liquids or liquids linked to LNG."
In the next part of this series, we'll look at ExxonMobil's downstream segment performance.