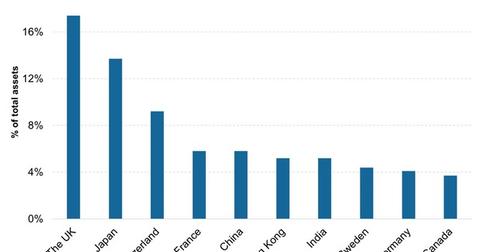 A Snapshot of the T. Rowe Price International Stock Fund (PRITX)
By David Ashworth

Nov. 17 2015, Published 4:50 p.m. ET
The T. Rowe Price International Stock Fund
The T. Rowe Price International Stock Fund (PRITX) notes that it aims to grow capital in the long term "through investments primarily in the common stocks of established, non-U.S. companies."
The fund was incepted in May 1980 and as of the end of October 2015, it had $14.1 billion in assets under management. As of the end of October, it had 133 holdings in its portfolio.
Article continues below advertisement
Sectoral and geographic breakdown
The T. Rowe Price International Stock Fund (PRITX) has 21.1% of its investors' money in financials, according to the latest available sectoral breakdown as of September 2015. Stocks from the consumer discretionary sector form 15.8% of the fund's assets, followed by industrials, which comprises 14.9% of the portfolio. Information technology and healthcare, in that order, complete the top five sectors invested in by the fund.
As of September 2015, the fund's geographic exposure shows that 17.4% of its money is invested into stocks from the United Kingdom. Japan is the only other country with stocks in the double digits, at 13.7%. All other countries comprise less than 10% each of the fund's portfolio. Stocks of companies from Switzerland form 9.2% of the fund's net assets, followed by France, which makes up 5.8% of the portfolio. China rounds off the top five, making up 5.8% of the total assets.
Article continues below advertisement
Hong Kong–based insurer AIA Group Limited is the fund's largest holding for October 2015. Aerospace and defense corporation Airbus Group SE (EADSY) is the largest company based out of the Netherlands. The largest holding from the UK is Aviva plc (AV) while Liberty Global plc (LBTYA), also based in the UK, is another top-ten holding. Representing Switzerland is Nestlé S.A. (NSRGY), while Japan is represented by Japan Tobacco Inc. and Nippon Telegraph and Telephone Corporation (NTT). The Priceline Group Inc. (PCLN) also forms part of the fund's top ten holdings. The fund house did not provide security-level weights for October.
Fees and minimums
The T. Rowe Price International Stock Fund (PRITX) requires a minimum initial investment of $2,500. Investors must add to their accounts in multiples of $100. PRITX is a no-load fund, meaning there is no sales charge levied while purchasing or any charge while redeeming. The fund house charges a short-term trading fee of 2.0% if investments are redeemed within 90 days. The expense ratio of the fund is 0.83%.
In the next article, let's look at the Thornburg International Value Fund – Class A (TGVAX).