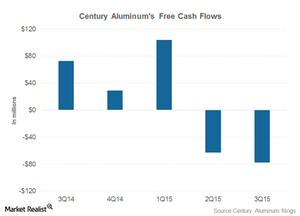 3Q15 Earnings Call: What Is Century Aluminum's Strategic Plan?
By Mohit Oberoi, CFA

Updated
3Q15 earnings call
Previously, we saw that Century Aluminum (CENX) generated a gross loss in 3Q15. Along with the accounting profits, it becomes imperative for investors in mining companies such as Rio Tinto (RIO) and Norsk Hydro (NHYDY) to track free cash flows—especially in the current, challenging operating environment. Let's see how Century Aluminum's cash flows shaped up in 3Q15.
Article continues below advertisement
Negative free cash flows
Century Aluminum (CENX) has generated negative free cash flows for two consecutive quarters, as can be seen in the graph above. Century Aluminum's cash balance decreased by $44 million in 3Q15. The company closed the quarter with $123 million in cash and cash equivalents. CENX also has a $100 million revolving credit facility.
Century Aluminum's strategy
Century Aluminum's president and CEO, Mike Bless, noted during the company's 3Q15 earnings conference call, "We will only run each of our operations in a manner that yields nominally a breakeven result even in the current depressed environment." He added, "We've got no interest in impairing our liquidity to fund losses."
Bless discussed a two-pronged strategy to tackle the current downtrend. First, the company plans to make "modest investments," assuming the current market conditions "persist for some period of time." Second, CENX is "reconfiguring the other operations to be viable in the current environment."
Operations
As discussed previously, Century Aluminum (CENX) has idled part of its operations at Sebree and Hawesville. More such portfolio actions can't be ruled out when considering the deteriorating aluminum market conditions.
However, the company expects to run its Grundartangi smelter at 120% of its rated capacity next year, leading to 50,000 metric tons of incremental production. According to Century Aluminum, the Grundartangi plant "has a very competitive cost structure."
Next, let's look at how the current trend could affect Century Aluminum.