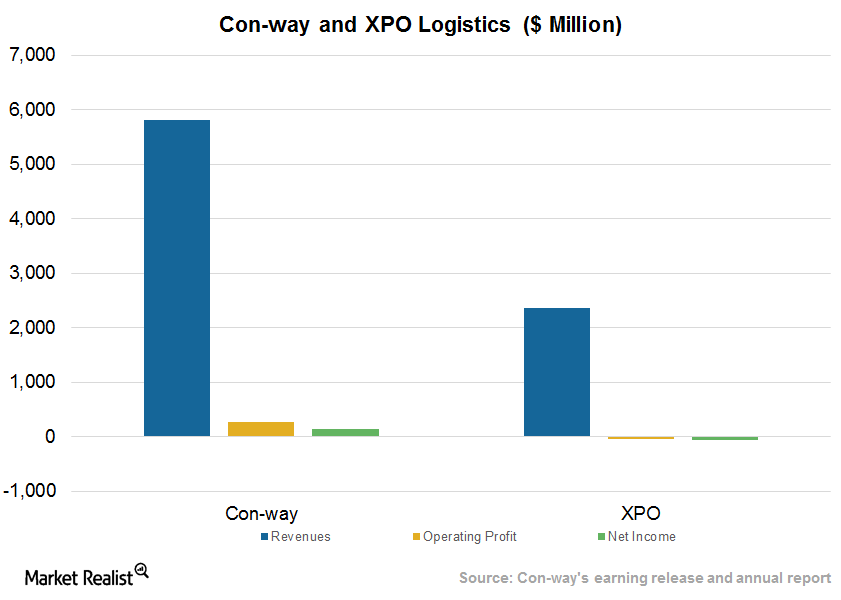 XPO Logistics to Acquire Con-way for $3 Billion
By Robert Karr

Oct. 21 2015, Updated 9:05 a.m. ET
LTL giant
On September 9, 2015, XPO Logistics (XPO) agreed to acquire Con-way (CNW) for $3 billion. This will make XPO the second-largest LTL (less-than-truckload) provider in North America by enhancing its range of supply chain solutions.
The market for LTL in North America is valued at $35 billion. XPO will also expand its global contract logistics platform and capitalize on synergies from Con-way's managed transportation, freight, and truckload business.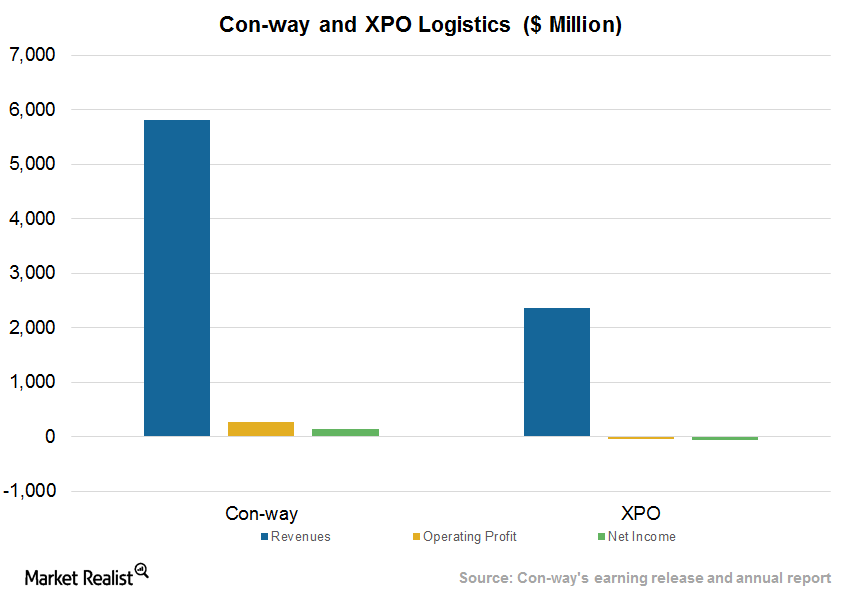 XPO will rebrand the acquired operations Con-way Freight, Menlo Logistics, Con-way Truckload, and Con-way as XPO Logistics.
Article continues below advertisement
Benefits for Con-way
XPO logistics has agreed to pay $47.60 per share to Con-way's existing shareholders. This translates to a premium of 32% and 5.7 times the consensus 2015 EBITDA (earnings before interest, tax, depreciation, and amortization) of $528 million.
Bradley Jacobs, chairman and chief executive officer of XPO Logistics, will continue to hold these positions and lead the combined entity. Douglas Stotlar, Con-way's president and chief executive officer, will serve in a limited role as an independent advisor to the combined entity through the first quarter of 2016.
XPO will benefit from Con-way's premier platform with higher offerings. It will also benefit from ownership of Con-way's assets, which will support XPO's current operations.
The transaction provides an immediate unlocking of value for Con-way's shareholders as well as increased offerings for its existing clients.
Employee numbers are expected to grow alongside the organization as the combined entity expands on synergies. The transaction will nearly double XPO's proforma full-year EBITDA to approximately $1.1 billion and will increase revenues to $15 billion. The combined entity is expected to add operating profits of $170–$210 million over two years.