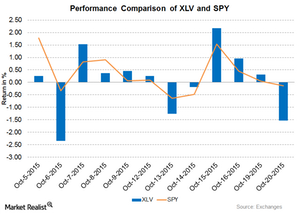 XLV's Mid-October Performance amid Falling Biotech Stocks
By Peter Neil

Updated
XLV following biotech sell-off trend
On October 20, 2015, biotech stocks again witnessed a sell-off, causing the major biotech ETFs to finish the day in the red. The SPDR S&P 500 ETF (SPY), which is the broader market indicator, fell by 0.15%.
Meanwhile, the iShares Nasdaq Biotechnology Index (IBB), another major biotech ETF, went down by 3.15%, and the Health Care Select Sector SPDR ETF (XLV) fell by 1.55%. The SPDR S&P Biotech ETF (XBI) lost the most—3.4%. But the iShares US Healthcare Providers (IHF) bucked the trend by losing only 0.05% on October 20, 2015.
The above graph reflects the performance of XLV and SPY on a day-to-day basis since October 5, 2015. The graph indicates that, on most occasions, when the market goes up, XLV outperforms the SPY, and when the market is on a downward trend, SPY outperforms XLV.
Since October 5, 2015, SPY has given a return of 4.1%, and XLV has given a return of 0.9%. Thus, SPY has outperformed XLV throughout mid-October. On October 20, out of 55 stocks, 13 stocks gave positive returns while 42 stocks ended the day with negative returns.
The other stocks that went down include AbbVie (ABBV) and Abbott Laboratories (ABT), which gave returns of -2.35% and -0.95%, respectively.
Article continues below advertisement
Varian Medical Systems down on lower guidance
Varian Medical Systems (VAR) went down by 4.05% as the company expressed lower earnings for fiscal 2015. The company's stock also witnessed high trading volumes and went down on profit booking.
According to its press release, Varian Medical Systems announced that it expects to report "lower earnings for the fiscal year 2015 than was previously guided in its earnings report for the third quarter of the fiscal year." The company now expects that its "non-GAAP net earnings will be approximately $4.29 per diluted share and that GAAP (Generally Accepted Accounting Principles) net earnings will be approximately $4.09 per diluted share."
The company's spokesperson stated in its press release that the company also continues to expect that "revenues for the year will grow by about 2 percent, or 6 percent on a constant currency basis. These preliminary results are subject to revision due to the completion of the company's financial closing procedures, final adjustments and other developments that may arise between the date of this press release and the time that the company reports its full fiscal year results on October 28, 2015."
Varian Medical Systems closed October 20, 2015, at $75.30 and was trading below its 20-day, 50-day, and 100-day moving averages. The company has a weight of 0.29% in the Health Care Select Sector SPDR ETF (XLV).
Continue to the next part of this series for a look at XLV's top ten large-cap holdings—and its biggest mid-October 2015 underperformer.