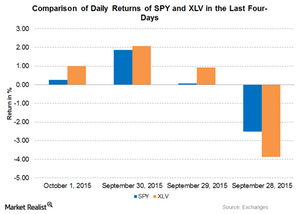 XLV Gained 1% as 60% of Portfolio Ended Positively for the Day
By Peter Neil

Oct. 2 2015, Published 1:13 p.m. ET
XLV gains 1.01%
The Health Care Select Sector SPDR ETF (XLV) gained 1.01% on October 1, 2015. XLV's upward movement was well supported by its portfolio as 60% of the stocks ended positively for the day. Out of 56 stocks, 34 stocks ended up positively gaining in the range of 0.01% to 4.80%. 21 stocks ended on the downside but the downward range was limited to -0.04% to -1.72%.
XLV outperformed the broader market representative SPDR S&P 50 ETF (SPY) on October 1, 2015. SPY rose by 0.26% , compared with XLV's 1.01%.
The above graph reflects XLV's and SPY's performance since September 28, 2015. XLV has outperformed SPY on three occasions and SPY has outperformed XLV on one occasion.
Article continues below advertisement
Performers and non-performers
Edwards Lifesciences (EW) was the best performer of the day with a gain of 4.80%. The stock gained on good buying volume. ~2.4 million shares were traded for the day, which is higher than the five-day trading volume average of ~1.34 million shares per day. Edwards Lifesciences closed at $149 and was trading above its 20, 50, and 100-day moving averages. The RSI (relative strength index) of the stock is 53, indicating that the stock is neither overbought nor oversold. Edwards Lifesciences has a weight of 0.50% of XLV's portfolio.
Agilent Technologies (A) went down by 1.72% to close at $33.74. According to a press release, Agilent released completely redesigned versions of its industry-leading sulfur and nitrogen chemiluminescence detectors. Establishments such as oil refineries, petrochemical producers, and food and beverage companies depend on precise sulfur and nitrogen testing to meet global regulations on emissions. The new detectors are designed to save time, with what would normally be a one hour job taking only ten minutes. However, investors were not excited about this news.
Agilent has a weight of 0.49% in XLV's portfolio. Other stocks that went down marginally were Baxter International (BAX) and Becton, Dickinson and Company (BDX), with returns of -0.37% and -0.35%, respectively.