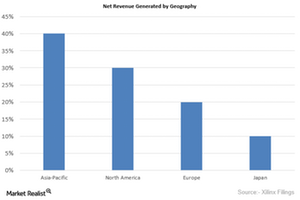 Xilinx Revenue Continues to Fall, Expects Next Quarter's to Rise
Xilinx revenue falling consistently since 4Q14
Xilinx, a provider of programmable logic devices, announced its 2Q16 results on Oct 14, 2015. The company's overall revenue remains down for both QoQ (quarter-over-quarter) and YoY (year-over-year), despite an increase in the sale of new products such as Virtex-7, Kintex-7, Spartan-6,and Zynq-7000. Xilinx reported revenues of $528 million, compared with $604 million in the same period the previous quarter, a fall of 12.7%. The company's revenue has been consistently falling since Q414. This quarter they reported a gross margin of 70.1%, compared with 72.0% in the same quarter last year.
Article continues below advertisement
Revenue breakdown by geographical region
The above graph represents net revenue breakdown across regions, with Asia-Pacific and North America remaining top revenue earners. Revenue generated from North America fell by 19% on a YoY basis and 17% on a QoQ basis. The industrial, aerospace, and defence market fell by 12% both YoY and QoQ , whereas revenue generated from broadcast, consumer, and automotive has risen by 4% on a YoY basis. As mentioned earlier, revenue generated from new products rose by 20%, which was offset by a fall in mainstream and base products, of 29% and 28%, respectively, on a YoY basis.
Strategic alliance and 3Q16 outlook
On October 8, 2015, Xilinx announced a strategic alliance with Qualcomm, to deliver mixed solutions ranging from card-level to embedded software. The alliance between the two companies will be cost-efficient as well as improve Xilinx's overall performance.
The company is expecting next quarter's revenue to be up by 3% to 7%. However, the gross margin is expected to go down to approximately 69%, compared with this quarter's gross margin of 70%. Operating expenses are expected to stay high at $230 million, including the cost of amortization of $2 million. Moreover, Xilinx is expecting diluted shares of approximately $265 million.
The PowerShares QQQ ETF (QQQ) is a portfolio of 107 stocks, with its top four stocks, Apple (AAPL), Microsoft (MSFT), Amazon (AMZN), and Google (GOOG) constituting 13.0%, 7.4%, 5.1, and 4.5%, respectively.