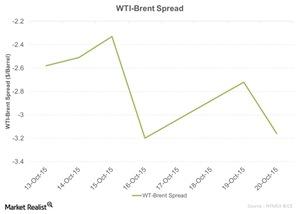 WTI-Brent Spread Diverges: Adverse for US Oil Producers
Price overview
Brent crude oil's premium over WTI (West Texas Intermediate) widened to $3.16 per barrel on October 20, 2015. It was $2.58 per barrel on October 14.
Article continues below advertisement
Why WTI-Brent spread widened
The WTI-Brent spread widened due to the fall in WTI prices. This is happening mainly for two reasons. The first is the expiration of WTI futures contracts for November delivery. During periods of oversupplied markets, futures prices converge to spot prices, as markets are in contango. A rush to sell inventories has contributed to the widening spread.
Investors are also focusing their attention on the outcome of the OPEC (Organization of the Petroleum Exporting Countries) meeting, which may see a potential cut in production, shifting the available supply of Brent relative to WTI down.
WTI-Brent spread for the past 2 years
According to a Genscape white paper report, between September 2013 and September 2015, the benchmark price spread between ICE (Intercontinental Exchange) Brent futures contracts and the NYMEX (New York Mercantile Exchange) Light Sweet Crude futures contract narrowed considerably. This is the basis for West Texas Intermediate Crude at Cushing, Oklahoma.
The WTI-Brent spread was near $6.80 per barrel in early September 2013 and near $1.30 per barrel in mid-September 2015. In late 2012, the spread exceeded $20 per barrel. The spread peaked this year at more than $7 per barrel in February before declining.
What's the impact of a wider spread?
A wider WTI-Brent spread has a negative impact on US producers such as Occidental Petroleum (OXY), Oasis Petroleum (OAS), Hess (HES), Cimarex Energy (XEC), Anadarko Petroleum (APC), Plains All American Pipeline Partners (PAA), and the United States Oil ETF (USO).
On the other side, Phillips 66 (PSX) benefits from a wider WTI-Brent spread due to benchmarking with Brent price. Phillips 66 (PSX) accounts for 3.2% of the Vanguard Energy ETF (VDE).