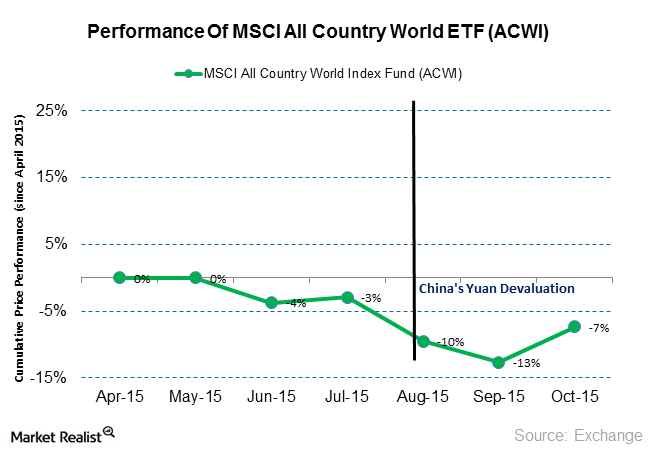 The World Economy Could Enter into the Cycle of Currency War
By Sarah Sands

Oct. 14 2015, Published 6:03 p.m. ET
How the exchange rate affects international trade
International trade is largely dependent upon the exchange rate. If a country's currency is depreciating, it should lead to a rise in exports and a fall in imports. If a country's currency appreciates, the reverse should happen.
Countries with lower inflation levels usually represent stronger currencies. However, in recent months, movements in the exchange rate have not been determined by inflation, but by factors such as the fall in commodity prices and the aftermath of country credit risk.
The iShares MSCI All Country World ETF (ACWI) tracks world equities and serves as a good gauge of global equity market performance.
Above is a graph that shows the performance of the iShares MSCI All Country World ETF since April 2015. In August 2015, China devalued its currency twice, which impacted the world economy. The cumulative return of the ETF in the month of July 2015 was -3%, which fell to -10% by August 2015.
Article continues below advertisement
52% of the MSCI All Country World Index ETF is invested in large and giant capitalization stocks such as Apple (AAPL), Microsoft (MSFT), ExxonMobil (XOM), Johnson & Johnson (JNJ), and Wells Fargo (WFC). These companies constitute 1.9%, 1.0%, 0.87%, 0.75%, and 0.74%, respectively, of the ETF's overall portfolio.
The vicious cycle of currency war
Devaluation and depreciation both have the same effect on a country's currency, but the former is a willful act, and the latter is determined by market forces.
China devalued its yuan twice in August 2015. Consequently, it has spooked equity markets across the world. Energy-exporting countries are finding it difficult to adjust to recent commodity prices, and they are left with the choices of incentivizing domestic industry or entering into the currency devaluation row.
Above is a graph that shows the movements of different currencies against the US dollar in recent months.
Investors who are interested in investing in the world economy can consider the MSCI All Country World Index ETF or the Vanguard FTSE All-World ex-US ETF (VEU).
Read the Market Realist series Weak Global Outlook Overshadows Trade and Consumer Confidence to learn more.