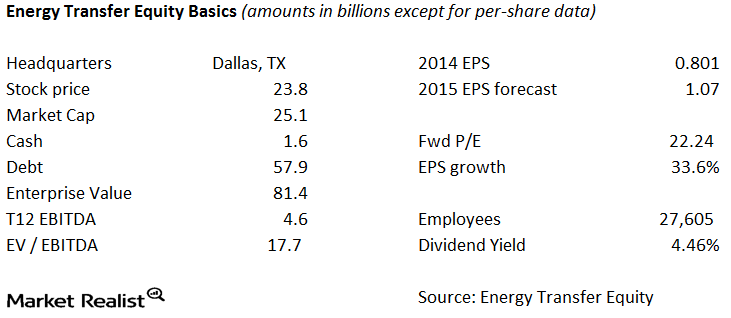 The Williams–Energy Transfer Merger: Energy Transfer Equity Basics
By Brent Nyitray, CFA, MBA

Oct. 12 2015, Published 11:18 a.m. ET
Energy Transfer Equity is a major midstream energy company
Energy Transfer Equity (ETE) is a midstream holding company that holds interests in numerous partnerships in the midstream energy business. The company operates in four basic business segments:
Article continues below advertisement
Investment in Energy Transfer Partners
Energy Transfer Partners' operations include the following: Interstate Transportation and Storage, Midstream Operations, Liquids Transportation and Services Operations, Sunoco Logistics, Retail Marketing, and Other.
Other investments
Energy Transfer Equity also has investments in common stock, especially Sunoco Logistics (SXL) and Sunoco LP (SUN).
Article continues below advertisement
Investment in Regency
This is from Energy Transfer Equity's recent deal with Regency Energy Partners. ETE's 10-K describes Regency Energy Partners this way: "Regency provides 'wellhead-to-market' services to producers of natural gas, which include transporting raw natural gas from the wellhead through gathering systems, processing raw natural gas to separate NGLs from the raw natural gas and selling or delivering the pipeline-quality natural gas and NGLs to various markets and pipeline systems, and the gathering of oil (crude and/or condensate, a lighter oil) received from producers, the gathering and disposing of salt water, and natural gas and NGL marketing and trading."
This area is probably going to have the most synergies with Williams (WMB). Synergies are the big driver of the Williams–Energy Transfer merger.
Investment in Lake Charles
Lake Charles LNG provides terminal services for shippers by receiving LNG at the facility for storage and delivering such LNG to shippers in the form they desire.