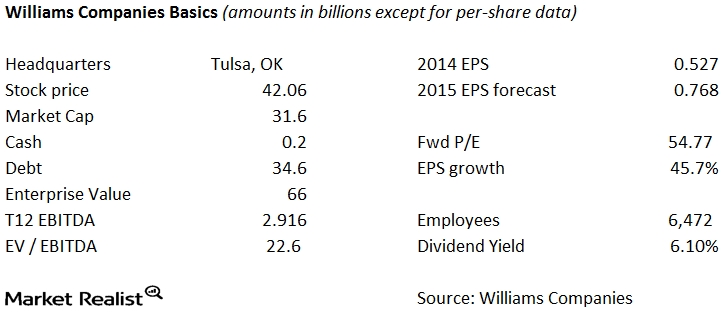 The Williams–Energy Transfer Merger: Basics of Williams Companies
Williams is a major energy infrastructure company
Williams Companies (WMB) is an energy infrastructure company focused on midstream operations, which connect energy exploration and production companies to ultimate users including refineries and distributors. They are primarily US-based, however, they have offshore deepwater Gulf assets and exposure to the Canadian Tar Sands.
Williams Companies is broken up into four operating segments: Williams Partners, Access Midstream, Williams NGL and Petroleum Services, and Other.
Article continues below advertisement
Williams Partners: This segment includes the consolidated master limited partnership Williams Partners (WPZ), which was supposed to merge with Williams but was terminated to allow the merger with Energy Transfer Equity (ETE). This segment includes gas pipelines and other midstream assets. The pipeline business includes the interstate gas pipelines and any associated joint ventures.
The midstream assets include gathering, treating, and processing of natural gas, natural gas liquids (NGL) production, fractionation, storage, transportation, deepwater production handling, and crude oil transportation services. The pipeline part of this business primarily comprises Transco and Northwest Pipeline.
Access Midstream: This segment is composed of Williams' consolidated master limited partnership ACMP, which includes domestic midstream businesses that provide services to producers under long-term, fee-based contracts.
Williams Natural Gas Liquids and Petrochemical Services: This segment is primarily composed of domestic olefins pipeline assets and Canadian growth projects under development, including a propane dehydrogenation facility and a liquids extraction plant.
Other assets: This segment includes the corporate operations and functions as well as a Canadian construction company.
Energy Transfer Equities is interested in diversifying its operations and wringing out synergies between the two companies. Synergies (both cost and revenue) are the primary driver of the Williams–Energy Transfer merger.
Other merger arbitrage resources