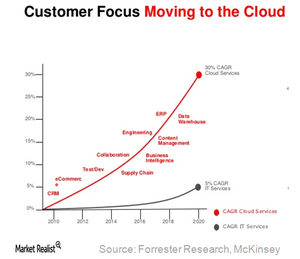 How Will the VMware-EMC Cloud Joint Venture Fare?
VMware eyes the cloud
In the first part of this series, we saw that VMware (VMW) announced strong results for fiscal 3Q15. During the earnings release, the company also announced its plan to launch a new cloud service company called Virtustream, which EMC (EMC) acquired earlier this year.
The move comes as both companies look to tap the fast-growing cloud market and compete with giants such as Amazon Web Services (AMZN) and Google (GOOG), which are eating up revenues of the server market.
Article continues below advertisement
What will happen with Virtustream?
Both VMware and EMC will have an equal stake in Virtustream, but financial results of the new company will be consolidated into VMware's results. The new company will combine VMware software and EMC hardware—vCloud Air and Virtustream—object storage and managed cloud services, to form a comprehensive hybrid cloud portfolio.
Virtustream is expected to be launched in early 2016 and led by chief executive officer Rodney Rogers.
How will Virtustream support future growth?
Since Dell is acquiring EMC, which owns VMware, the new company will ultimately fall under Dell's umbrella. Therefore, the announcement of the spin-off of Virtustream into a new company at this time comes as a surprise. This has made things more complex and resulted in analysts downgrading their ratings on VMware.
The spin-off comes after VMware reported strong double-digit growth from the cloud business. In the fiscal 3Q15 earnings call, VMware chief financial officer and chief operating officer Jonathan C. Chadwick explained the potential of the new company.
Of the roughly estimated 145 million workloads that presently exist, only 15 million run on the cloud, and the remaining 130 million run on-premises where the server is located inside the office. This leaves a huge untapped market for VMware and EMC to provide cloud services.
Why a spin-off?
Both VMware and EMC are targeting the cloud. A large company structure doesn't allow for the flexibility and ability to move fast. However, having a dedicated cloud company fits the strategy.
Moreover, the two companies can continue to grow in the data center while making a shift to the cloud. This may also blend with Dell's strategy to expand in the hybrid cloud market while focusing on personal computers and servers.
If you're bullish about Amazon, you can invest in the PowerShares QQQ Trust, Series 1 ETF (QQQ). It has 5.2% exposure in Amazon stock.