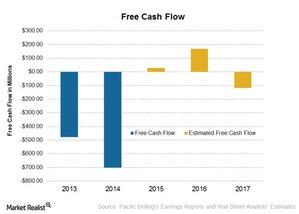 Will Pacific Drilling's Investors Have Positive Free Cash Flow after 4Q15?
Sufficient EBITDA for interest and capex?
Based on analysts' current projections of the company's EBITDA (earnings before interest, taxes, depreciation, and amortization)—as well as on our own EBITDA calculation for the worst case scenario—Pacific Drilling's (PACD) EBITDA should still be sufficient to pay interest and capex (capital expenditure) as it moves toward fiscal 2016.
The worrisome situation looms in 2017, when the company's projected interest expenses of $173 million would appear to be 50% of analysts' estimated EBITDA of $351 million, and when analysts' projected capex of $236 million would land at 67% of EBITDA.
Article continues below advertisement
An even more fearful scenario would be a situation wherein Pacific Drilling is unable to secure a single new contract by 2017. In this case, the company's interest expense of $173 million would be 250% of its worst-case EBITDA of $69 million, also the above-mentioned capex exceeds by $166 million than the worst case scenario EBITDA. This will eat up the company's cash reserves and the company will run into negative free cash flow.
Investors should note that the company's actual capex may exceed the analysts' estimated capex if the company postpones its newbuild delivery as well as its associated full capex of $336 million in 2017.
Analyst estimates for free cash flow
Analysts estimate that Pacific Drilling will have a negative free cash flow of -$16 million for the second half of 2015, compared to the $106 million it had in the first half of 2015. But the company's total free cash flow over the last four quarters was also negative, at -$257 million. Estimates also estimate the company's free cash flow in 2016 to be at $169 million, whereas it should see a negative free cash flow in 2017, at -$117 million.
For peer offshore drilling (OIH) companies like Ensco (ESV) and Noble Corporation (NE), analysts have predicted a positive free cash flow in 2016 as well as in 2017. But Diamond Offshore (DO), Transocean (RIG), and Atwood Oceanics (ATW) are expected to see negative free cash flows in 2016 and 2017.
Worst case scenario
Even after considering the possibility that Pacific Drilling will win no new contracts, we can calculate that the company should still have a positive free cash flow in 2016 of $170 million—a figure just 1% lower than the analyst estimates. Our calculation of free cash flow includes analyst estimates of depreciation, working capital investment, fixed capital investment, and a worst-case EBITDA. But we've also assumed a tax rate of 20%, and so a higher tax rate would further reduce the company's free cash flow. We've calculated free cash flow for 2017 in the same manner and can expect that Pacific Drilling could post a heavy negative that year—as big as -$336 million—in the absence of new contracts, compared to Wall Street analyst estimates of negative $117 million.
Continue to the next part of this series for a deeper look at the fate of Pacific Drilling—and how it may depend on its covenants.