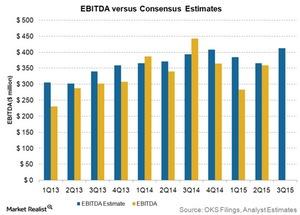 Will ONEOK Partners Match Higher 3Q15 Earnings Estimates?
OKS's 3Q15 earnings estimates
Analysts expect ONEOK Partners' (OKS) 3Q15 EBITDA (earnings before interest, taxes, depreciation, and amortization) to be 7% lower than its 3Q14 EBITDA and 15% higher than its 2Q15 EBITDA. ONEOK Partners missed its 2Q15 EBITDA estimates by 2%. It missed EBITDA estimates in eight out of the last ten quarters.The graph below compares consensus EBITDA estimates with OKS's EBITDA over ten quarters.
EBITDA is a popularly used metric to measure MLP performance because it provides a clear picture of a company's operational performance. At the same time, it excludes non-cash depreciation and amortization expenses that might distort a company's actual performance figures. OKS forms ~1% of the Guggenheim Defensive Equity ETF (DEF).
Article continues below advertisement
Why are OKS's earnings estimates high?
The following factors may impact OKS's EBITDA estimates for the third quarter:
The second quarter tends to be seasonally low for MLPs with operations in the natural gas segment. So estimates for 3Q15 are relatively higher.
Increased revenues from an expected increase in NGL (natural gas liquid) transportation volumes from the pipeline system in the Permian Basin and additional volumes from the natural gas processing plants in the Powder River Basin, the Williston Basin, and the mid-continent regions should contribute to OKS's EBITDA in the quarter. Additional revenues from rising volumes contribute to EBITDA if costs don't rise more than proportionally.
OKS's increased focus on fee-based contracts may drive EBITDA growth in the quarter. ONEOK Partners is working with producers to convert its existing percent-of-proceeds contracts to include a larger fee component.
Other MLPs with natural gas gathering and processing assets include DCP Midstream Partners (DPM), Targa Resources (NGLS), MarkWest Energy Partners (MWE), and Tallgrass Energy Partners (TEP).
Next, we'll analyze how ONEOK Partners' segments are expected to perform in the third quarter.