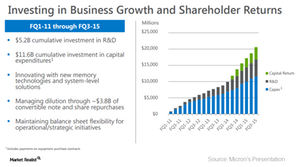 How Will Micron Use Its Cash Reserves?
By Puja Tayal

Dec. 4 2020, Updated 10:53 a.m. ET
Micron's cash position
In this series, we have seen how Micron's (MU) operations helped it earn an income of $471 million during fiscal 4Q15. Now let's look at the company's cash position during the quarter and its capital expenditure. As of September 3, 2015, the company had $5.6 billion of cash and marketable investments.
Understanding a company's cash reserves is important, as they are used to fund the company's daily operations, purchase plants and equipment, invest in research and development, and buy back shares and debt.
Article continues below advertisement
Fiscal 4Q15
During fiscal 4Q15, Micron generated $1 billion in cash from operations and spent around $1.85 billion on property, plants, and equipment. The company spent $638 million to buy back 36 million shares at an average price of $17.72 a share and $112 million on the repurchase of debt.
On October 2, 2015, the company's shares closed at around $16 a share. In the fiscal 4Q15 earnings call, Micron's chief financial officer, Ernie Maddock, said the company will continue to remain opportunistic and make repurchase decisions as appropriate.
Fiscal 2015
For fiscal 2015, Micron generated operating cash flow of $5.2 billion. The company spent $4.1 billion on capital expenditures and around $3.2 billion on the repurchase of shares and debt. The company issued $1 billion in debt with interest below 6% on February 3, 2015, and another $1 billion on April 30.
Fiscal 2016 capital expenditure
In fiscal 2016, Micron expects a capital expenditure of between $5.3 billion and $5.8 billion aimed at achieving operating efficiencies and developing new product and process technology. The company would invest in the transition of DRAM production to the 20-nm process in order to compete with Samsung (SSNLF), which has already started volume production on the 20-nm node.
Micron will invest in its Singapore (EWS) facility to build 3D NAND. It will also look to start production of its newly developed non-volatile memory called 3D XPoint in collaboration with Intel (INTC). The company will continue to broaden its product portfolio to cater to a diverse customer base. Even Sandisk (SNDK) is broadening its product portfolio, especially its solid-state disks.